A simple Balance sheet report is now available using BI4Cloud.
Standard reporting periods available are:
Period End - The Balance date selected in the date filter

if This Month then it is This Month to Date

Prior Period End - The prior month end before the Balance date selected 
Period End LY - The same period Last Year as the Balance date
Prior Period End LY - The month prior to the Balance date Last Year
EOFY PY - Balance at last Financial Year End
At present we are not able to display the actual dates on each column heading, only the relevant headings as described above.  See the Red dates below to help you understand the dates relative to the selected "Period End" date.
GL Balance Sheet Summary

Change Balance Date
 To Change the Balance date used to report for Period End click on the Calendar icon or click the Purple circles/play buttons to move the date backwards or forwards a month at a time.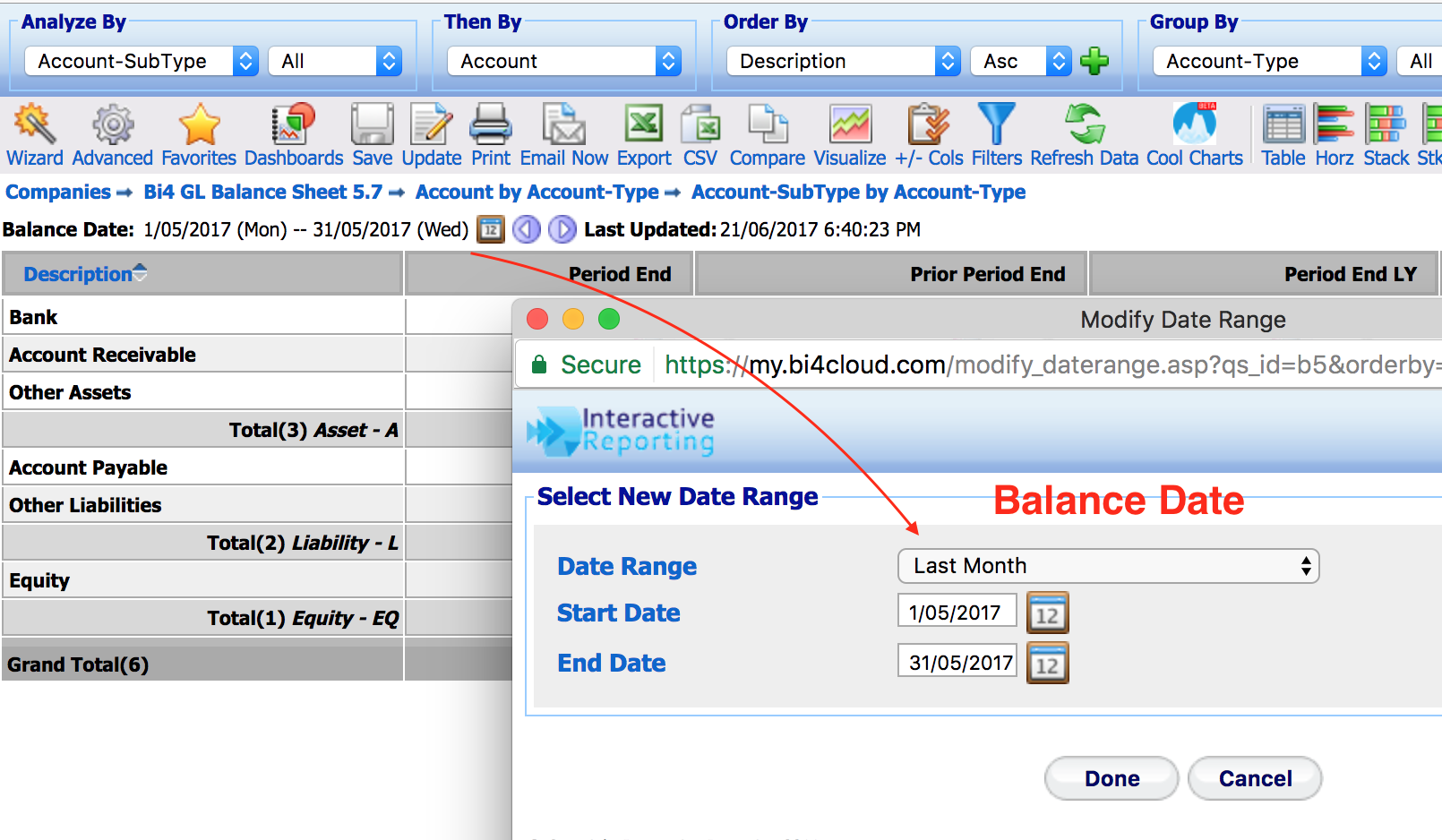 Add & Remove Columns (+/- Cols)
To hide some of the columns click on the +/- Cols icon and select which columns to Hide.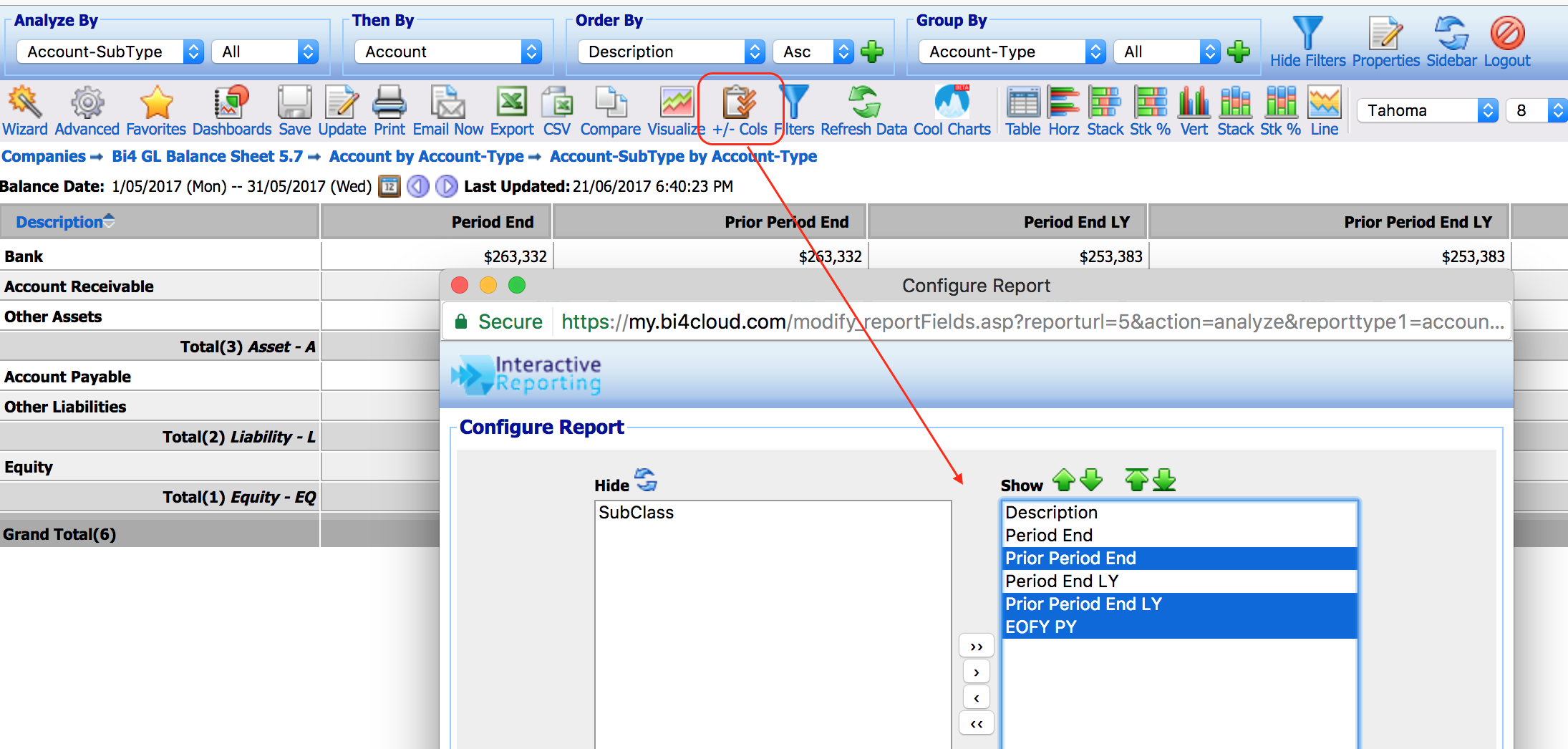 GL Balance Sheet - By Account
To see a more detailed Balance Sheet simply
Change Row dimensions using the Analyse by field or
Click on a row to Drill down to see the accounts that make up that Account Group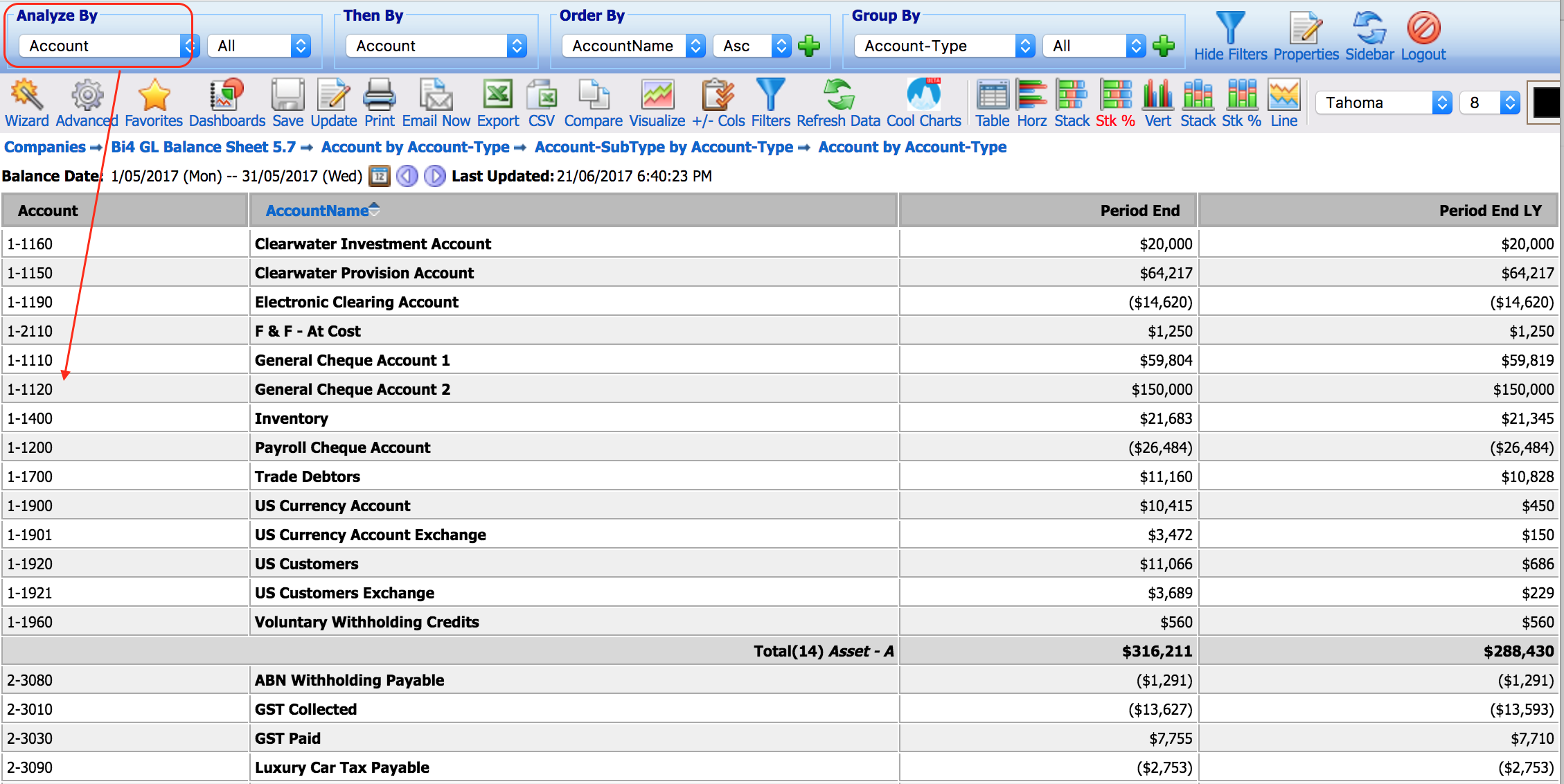 Balance Sheet - by Account and Account-Sub Type
If reporting by Account you might also want to set up Sub-totalling by:
Account-Sub Type e.g. Bank, Accounts Receivable, then by
Account-Type e.g. Asset, Liabilities
Click here to learn how to create multiple Subtotals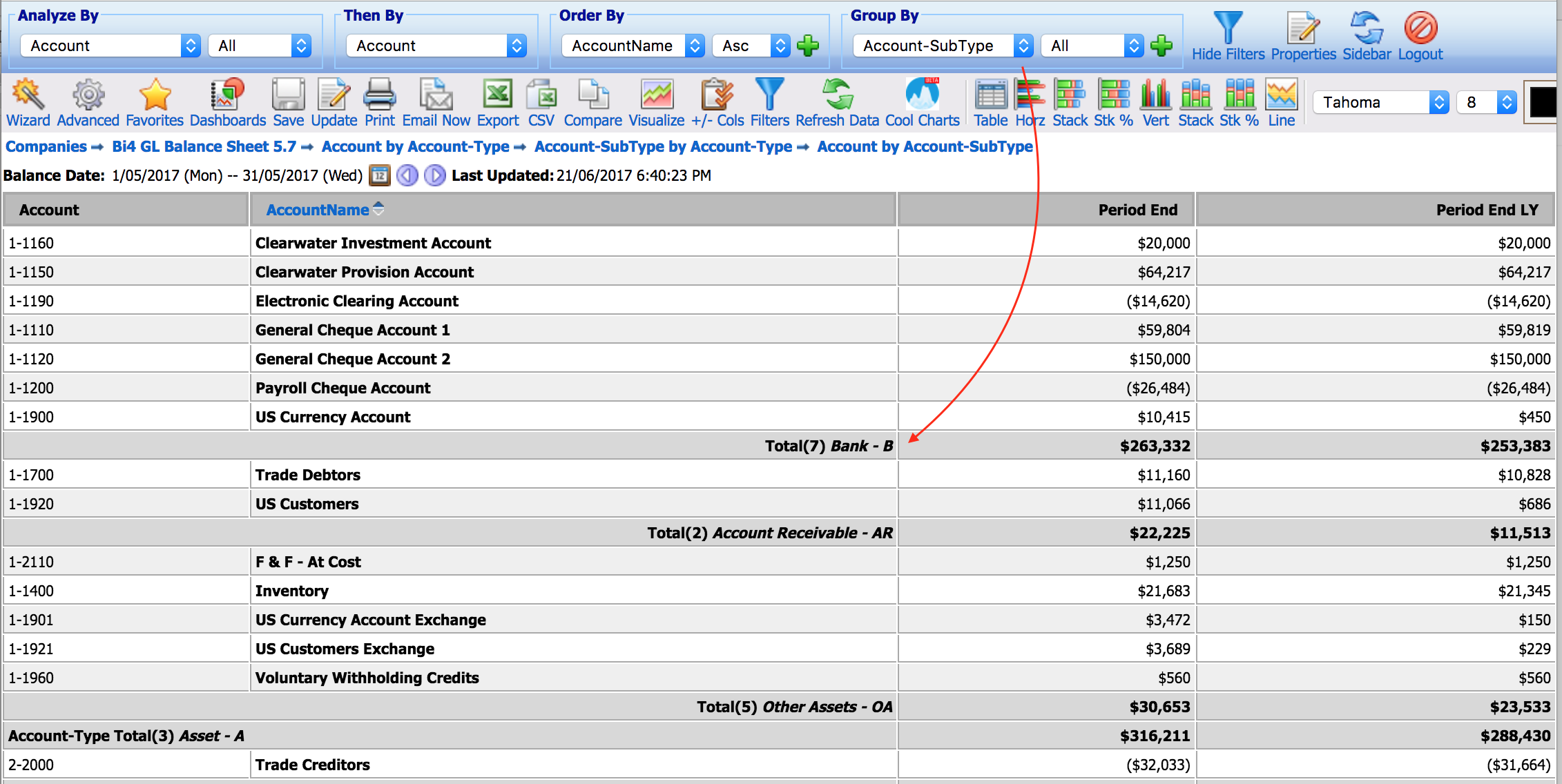 Balance Sheet - by Account and GL Account Level headers
Or if reporting by Account you might also want to set up Sub-totalling by:
Account Type e.g. Asset, Liabilities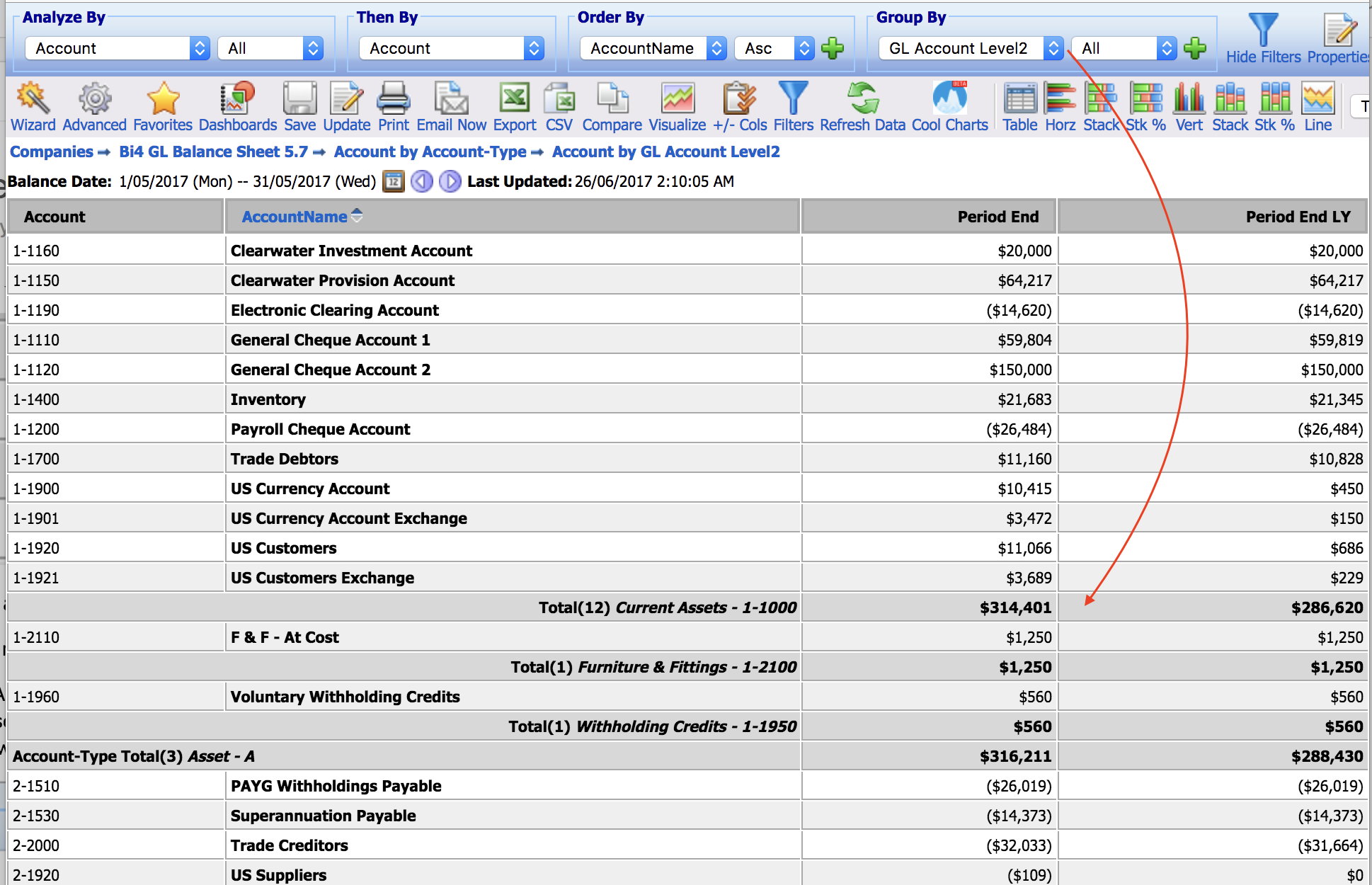 Balance Check
Our standard Balance Sheet reports show a Grand Total which should add to $0. This is designed to be a Balance Check row at the bottom of the report.  To hide this row, click on the Properties icon and untick the  Show Grand Total box.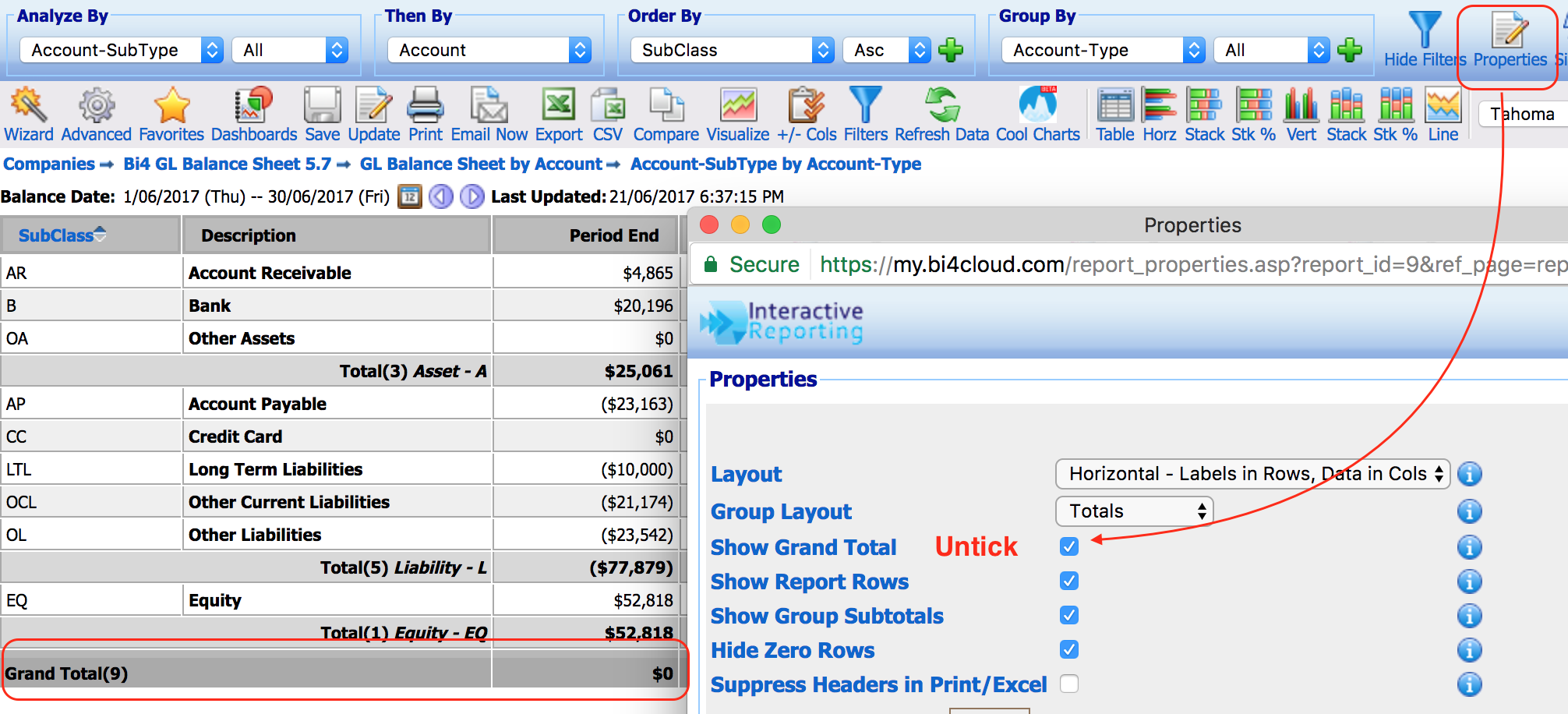 Consolidated Balance Sheet
Choose the Group Entity to run a Consolidated Balance sheet.
To create a Consolidated Balance Sheet showing each Company as a Column:
Run one of the Balance sheet Favourite reports 
Click on the Advanced (Cog Icon)
Change Report type to Pivot - (Click here to learn more about creating Pivot reports)
Check the settings:

Then by = Company this sets the Company as the Column dimension
Pivot = the Data the report will Pivot or report on (e.g. Period end  will show the Balances as per the Selected date range 
Date Range = the Selected Date Range for the Balance Sheet - used to determine This Period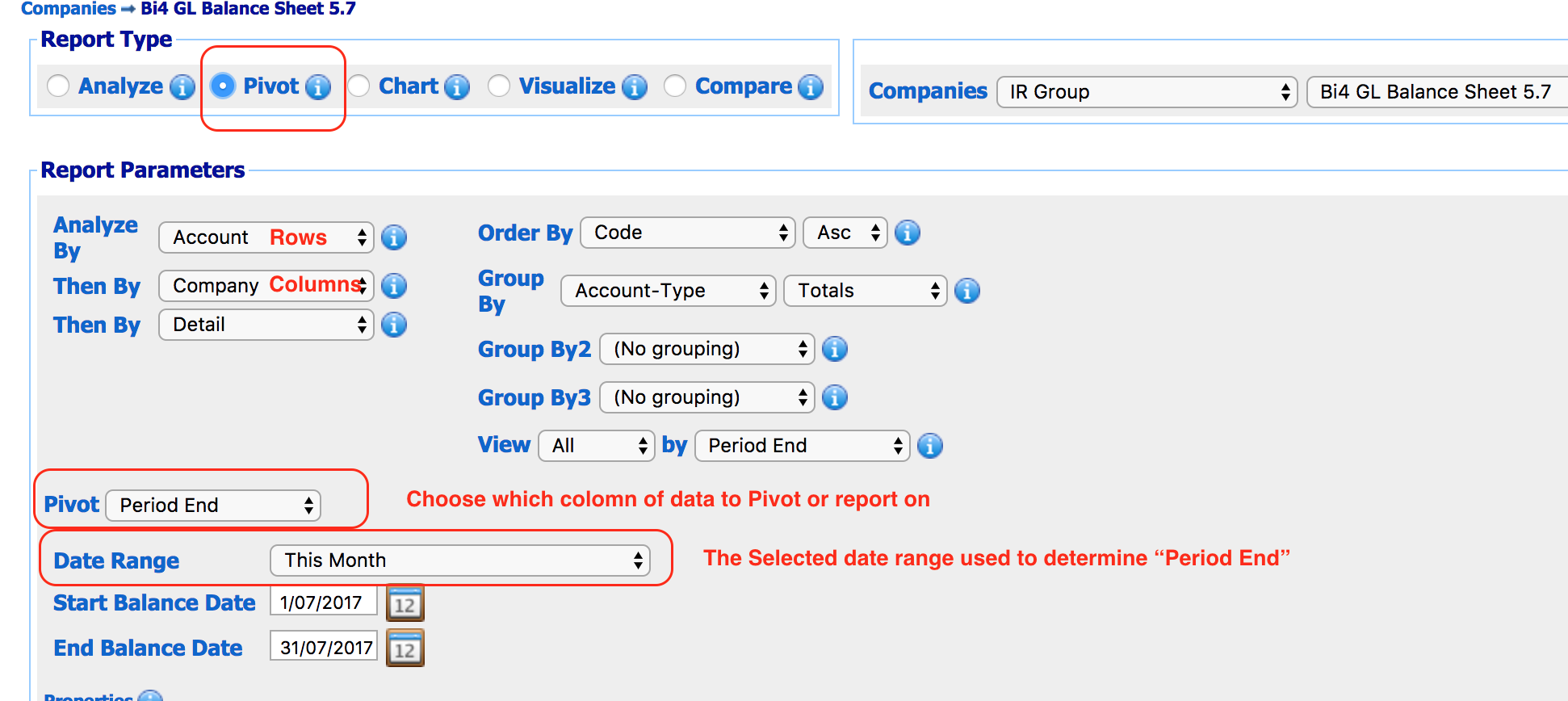 The resulting Consolidated Balance sheet will appear as: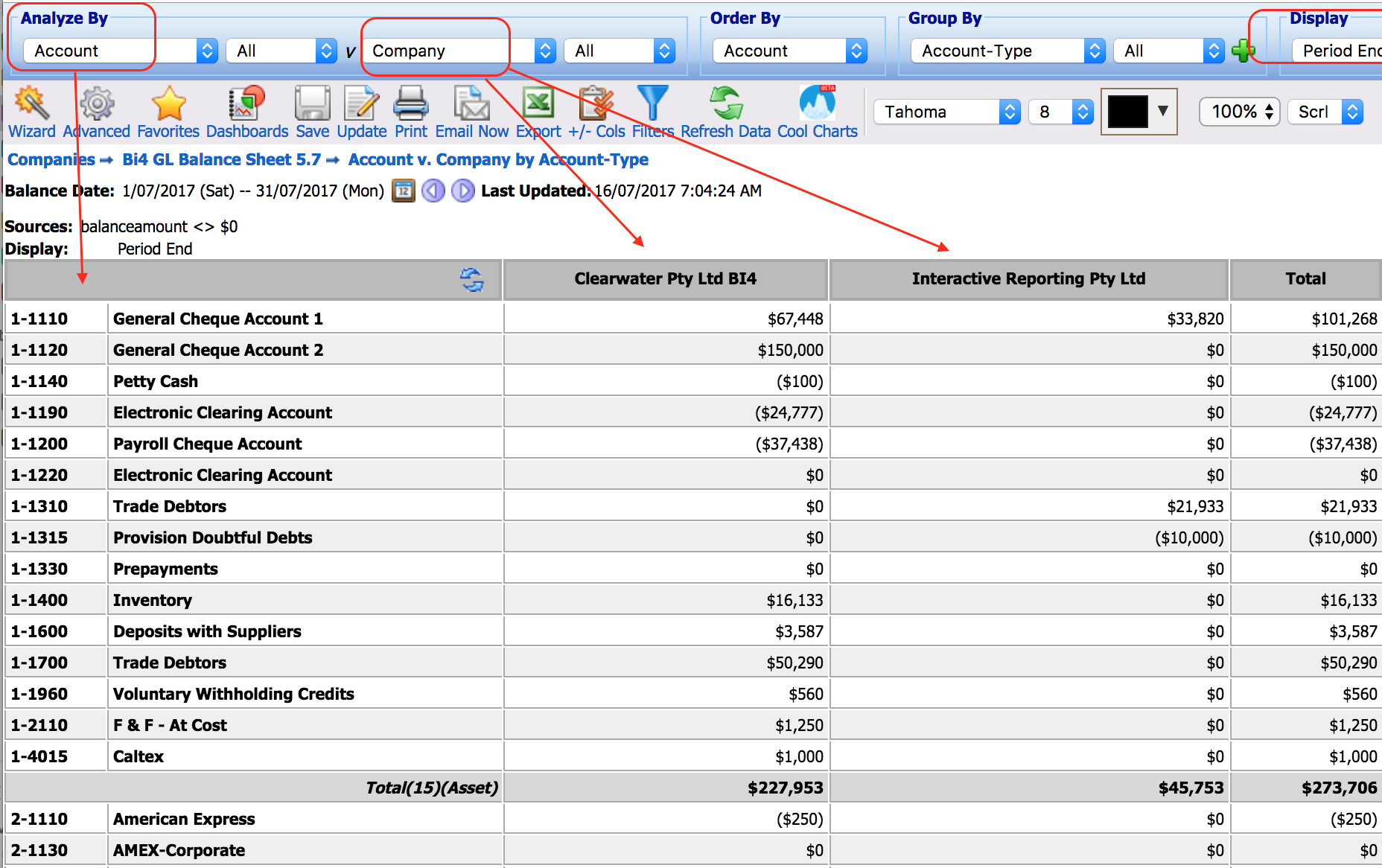 Other Suggestions 
Filter your Balance Sheet to focus on only some accounts.
I like to always make sure I have a positive "Net Liquid Assets".  That is, what I have as Cash at Bank plus what will soon be cash (my Accounts Receivable) less what I have to pay shortly (my Accounts Payable and maybe certain GST and Tax obligations).
Run one of the Balance Sheet Favourite Reports
Click on the Filter (Blue Funnel) - Click Here to learn about Filters
Select which Account Sub Types or GL Account Levels to report on

Suggest you select account groups, then if later you add in new Bank accounts etc they will automatically be picked up in this report.
If you filter for only specific accounts now, then when you add new accounts later you will need to remember to go back and change this report manually to pick up the new accounts.

Click Done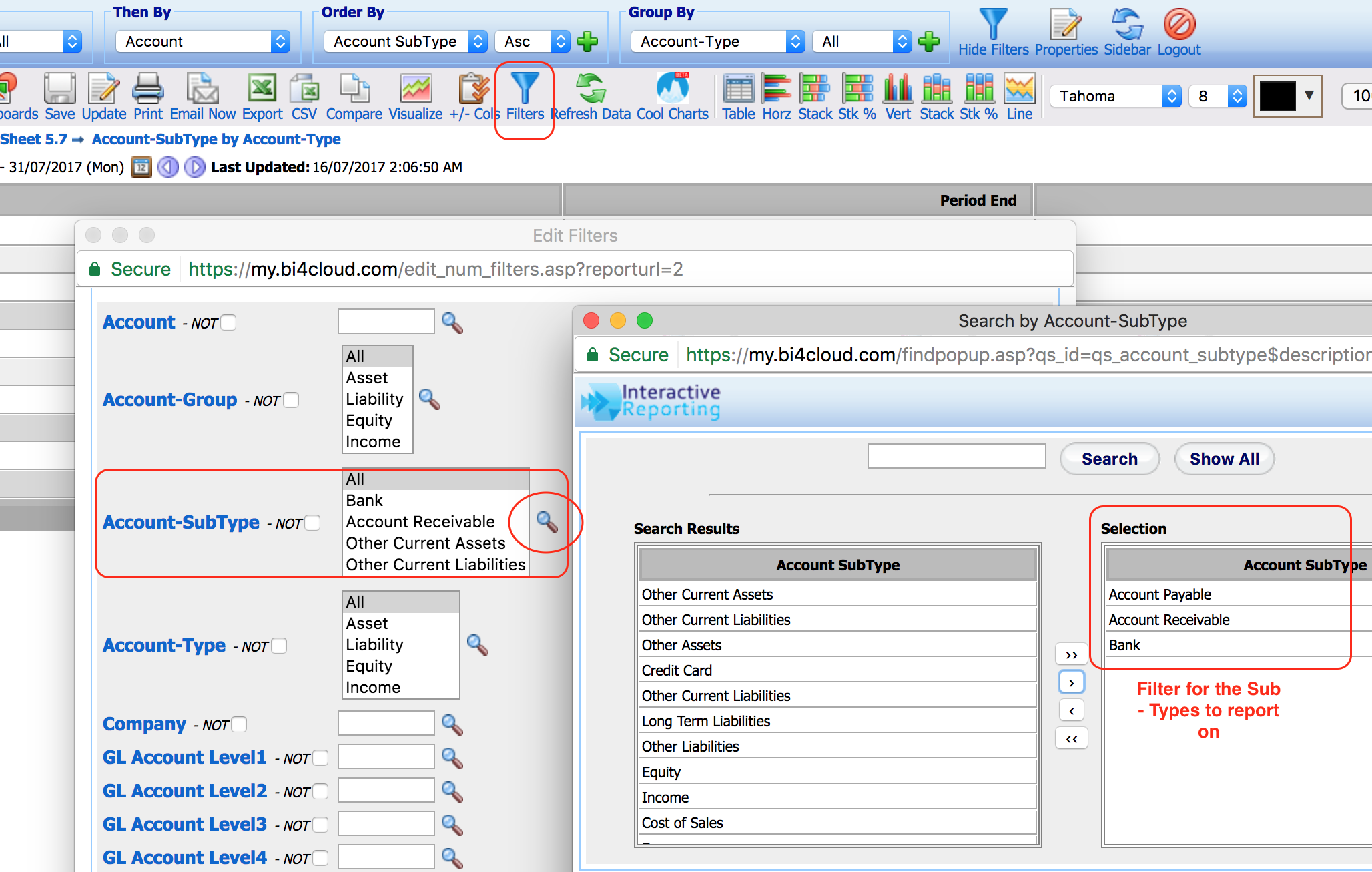 The Report will look like this. Note the Net Liquid Assets are Positive so this business has enough cash plus cash coming in shortly to cover all Accounts Payable.

Save your Changes as a New Favourite
To keep your hard work Save it as a new Favourite report to run over and over again.