Product Update: Users can now control the order in which date range columns appear and can also display the Name of the date range e.g.

Last Month

together with the actual dates
Introduction
Bi4Cloud features a Date Compare report type that allows you to compare up to 8 different Date Ranges of your choice at once. You can also use this type of report to generate Amount or Percentage Variances between these periods.
Generic Compare Report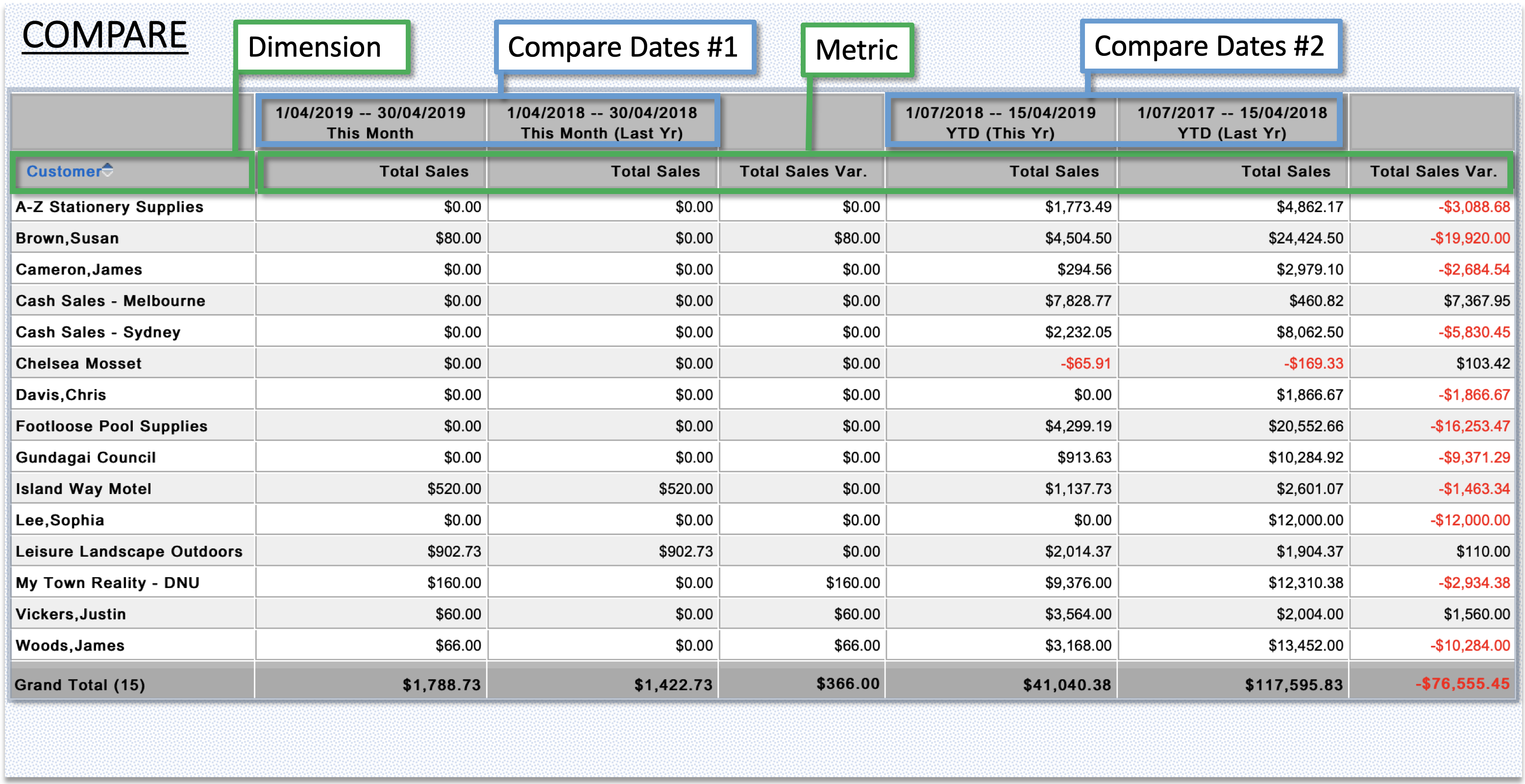 A great example is a P&L report that Compares This Year to Last Year or Compare Customer Sales This Year to Last see here
Use an Existing Compare Favourite
We have set up some Favourite reports as Compare type reports already to get you started.
Compare type reports have an icon showing one page on top of another when you view a list of Favourite Reports.


1. Open the Favourite report P&L - Act v Bud MTD v YTD

Note that Transaction dates show Last Month and Year to Last Month.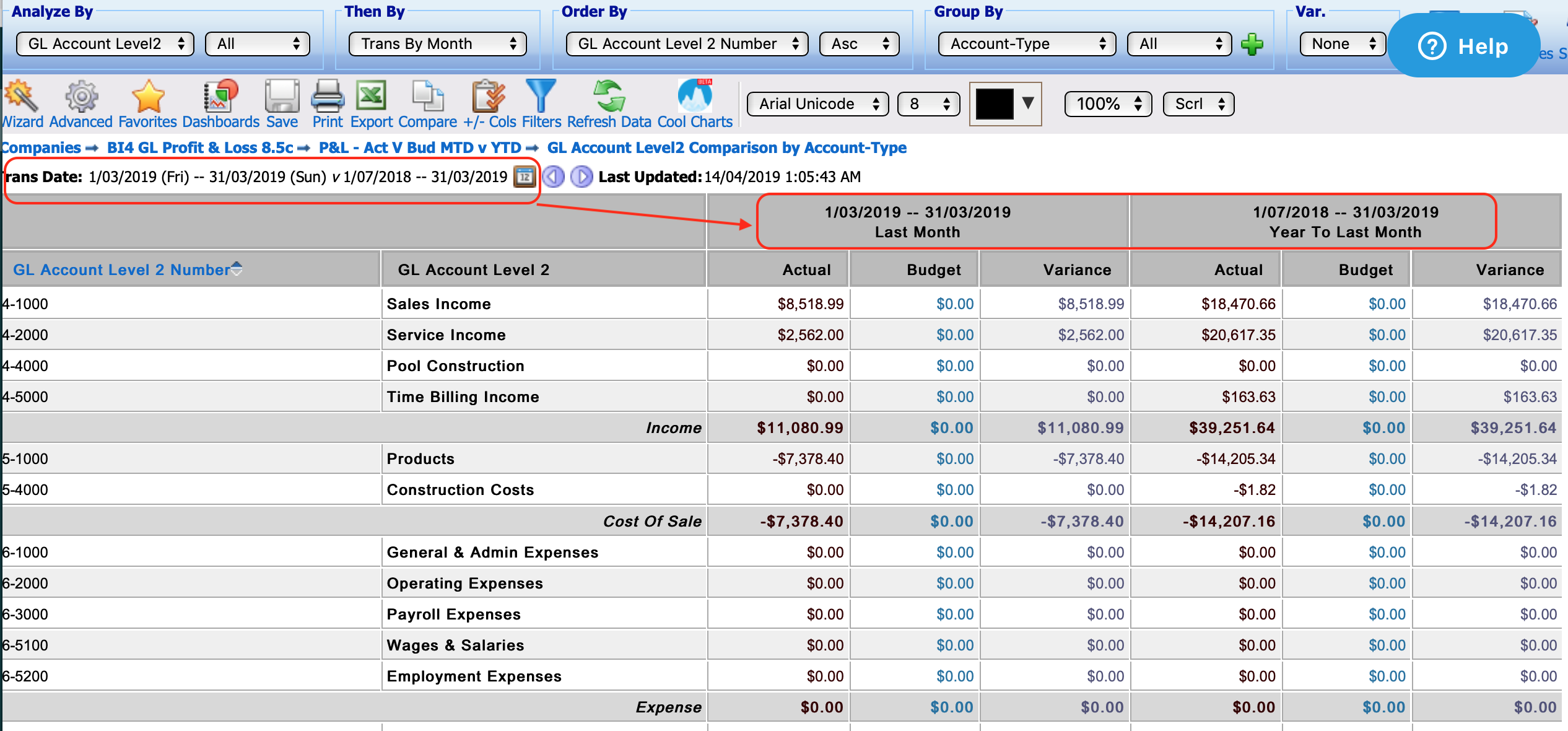 2. The date range can be changed to say Year to Last Month v Year to Last Month (Last Year) so you are comparing the same time frames.
Click on the Compare icon.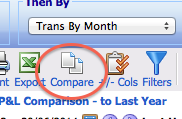 3. Choose the Date Range for Comparison

4. To Compare more dates Click on the Add Another Range and enter the dates, e.g. Last Month v Last Month (Last Yr).
You can compare up to 4 pairs of dates together.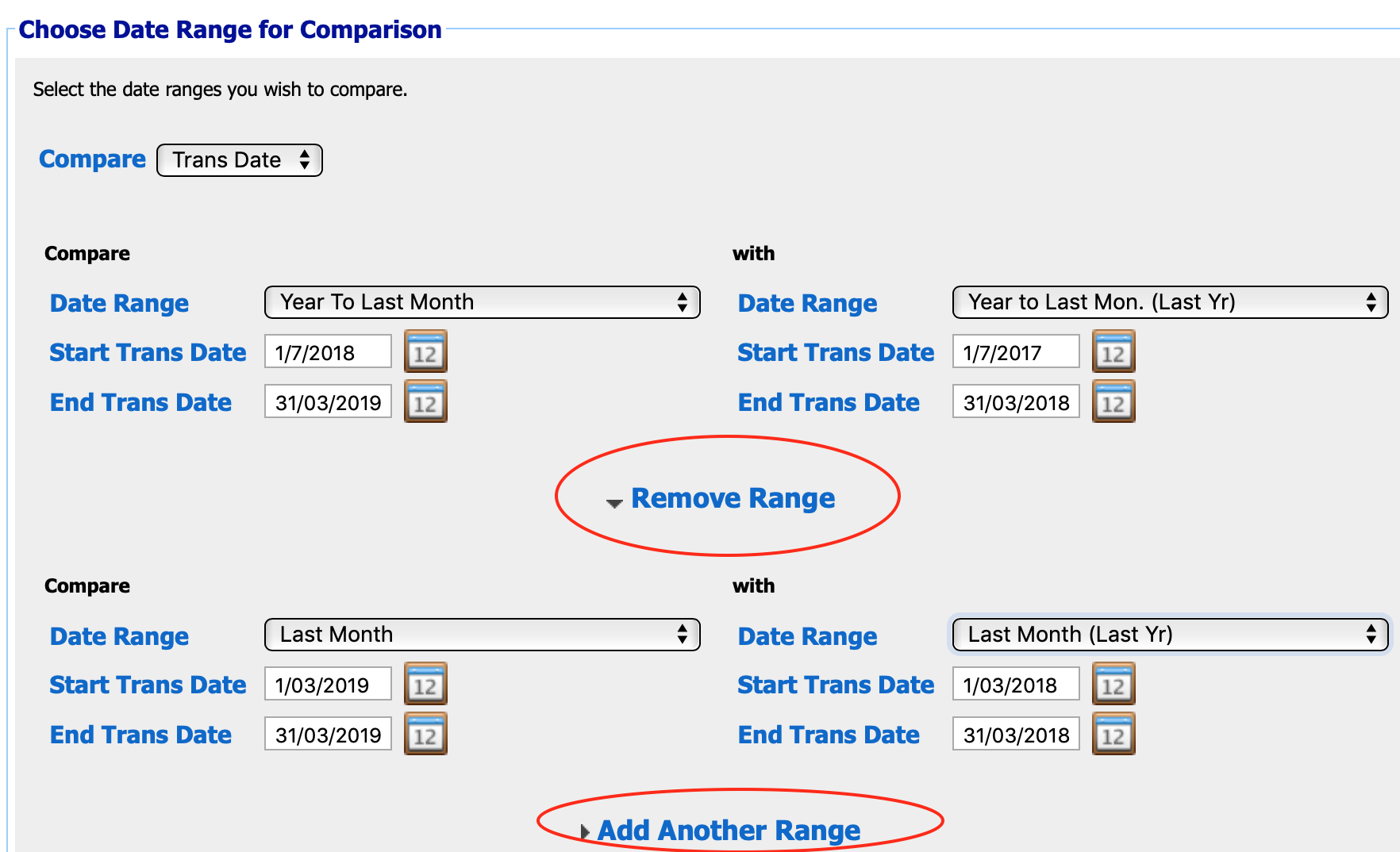 5. Compare similar date ranges and show Variance amount and/or Variance %.
Click on the Var. field (Top Right). Options to show Variances:
All - Show Variance amount and Variance %)
% Var - Show Variance % only
Var - Show Variance amount only
None - Show no variance, if comparing different period lengths (MTD v YTD)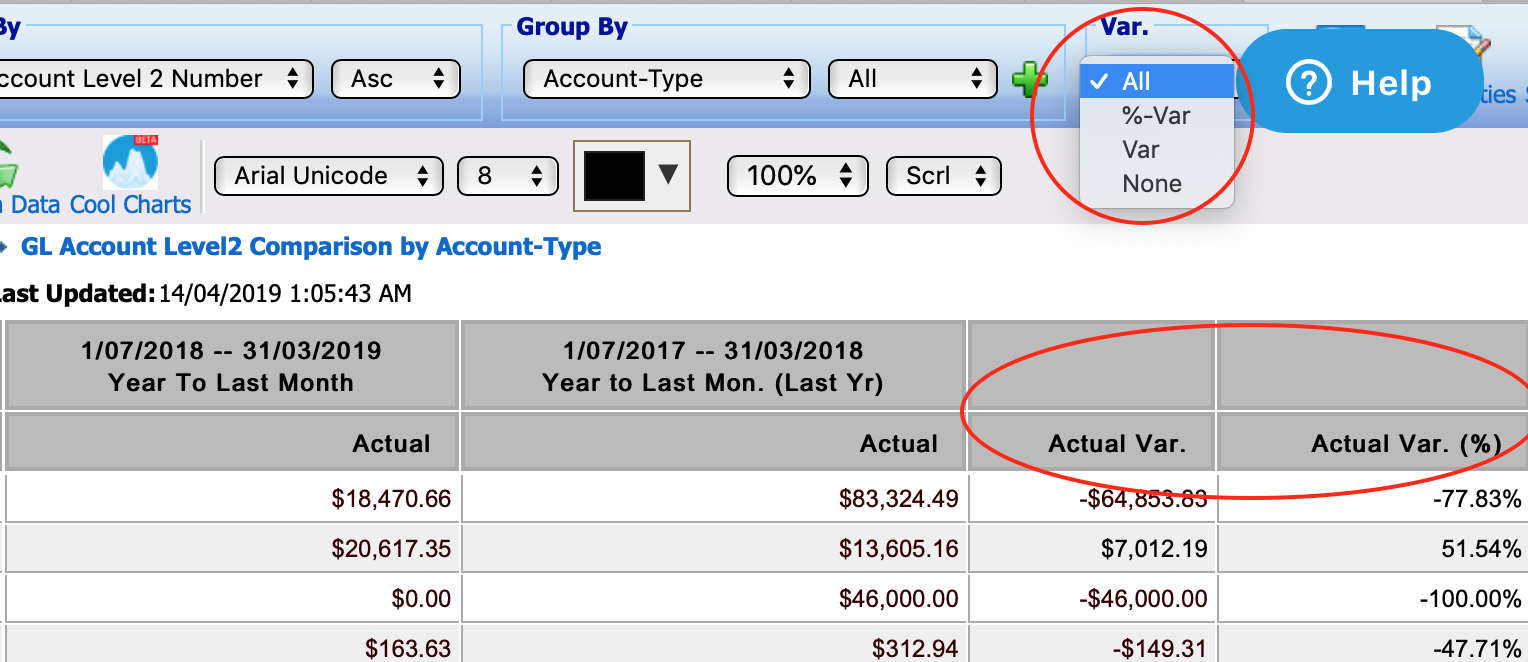 Try some of the rolling periods and add a Variance column to spot trends:
Last 30 days v Previous 30 days
Last 60 days v Previous 60 days
Last 90 days v Previous 90 days
YTD Rolling This Year v YTD Rolling Last Year
6. To see a number of periods as columns e.g. Quarters or Years together it is sometimes better to use a Pivot Report. Click Here to see how to create a Pivot report.
See below a Quarterly P&L using a Pivot report.

Using Compare Sales by Customer Favourite
The default report compares Month to date with the Previous Month to date and a Rolling 12 months with the Prior Rolling 12 months.
Click on a Variance column to sort to find the Customers buying more or less than the prior period
Change Analyse by to Item or another dimension to Compare by say sales by State or Product Group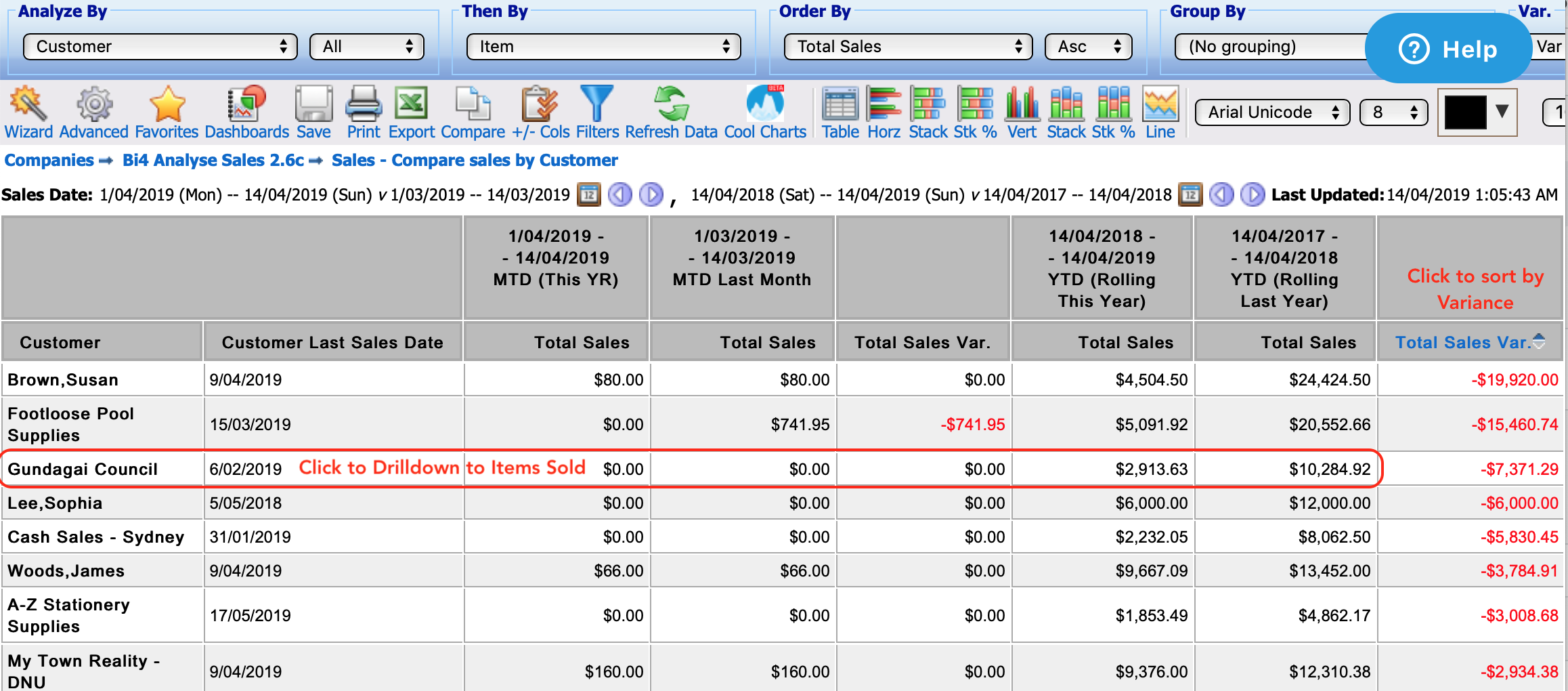 Drill through on a Customer to compare sales by item, this year to last year.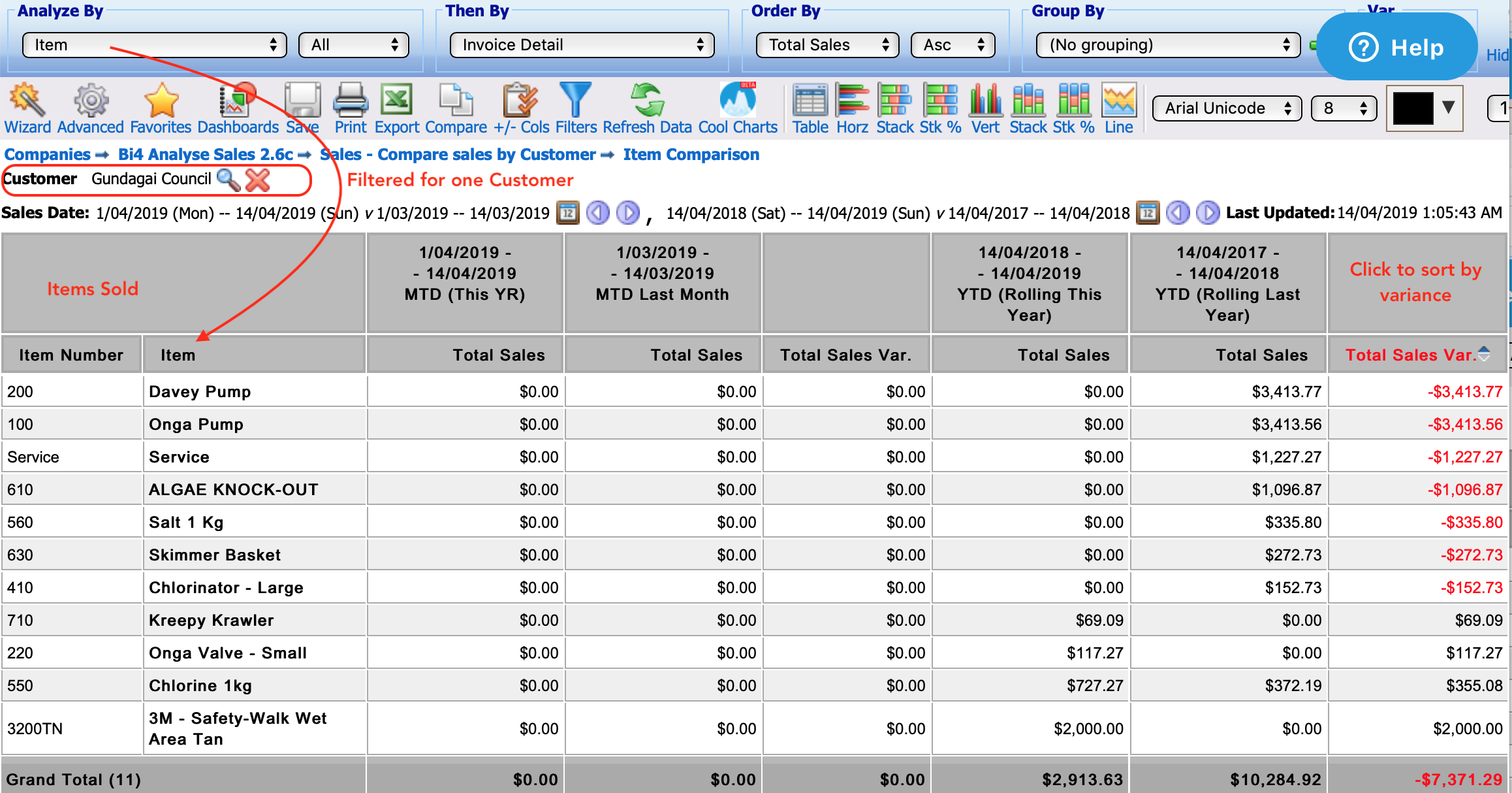 Using Compare Monthly Sales Report
See below a Comparison of monthly sales Year on Year. Change the Analyse by Dimension from Sales by Month to say Sales by Quarter or Sales by Week to see a comparison to the prior year:
Quarter on Quarter or
Week on Week
Click on a Month to Compare Sales by Customer for that Month; or
Filter for a Customer, Item or Item Group to Compare monthly sales at that level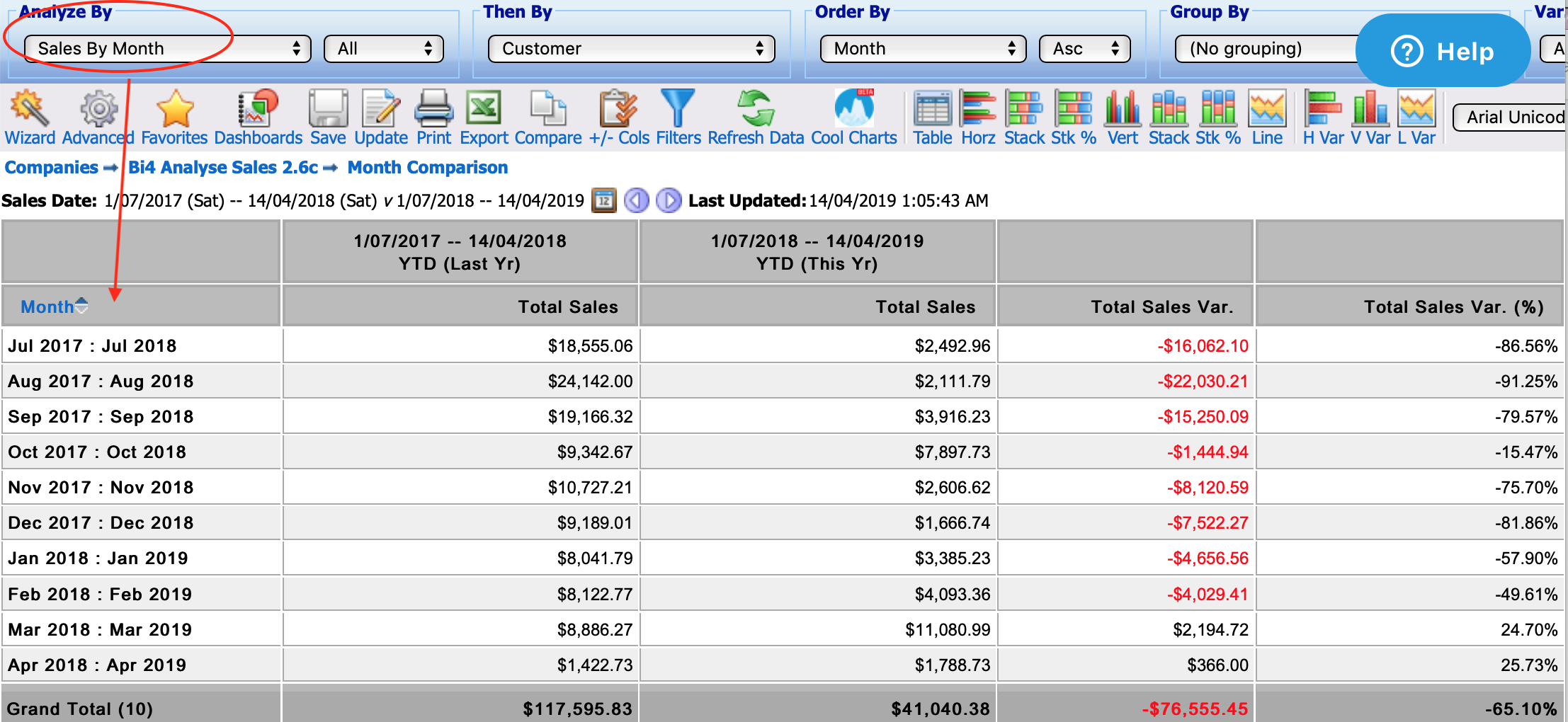 Select your own date ranges

You can select your own date ranges as in this example Compare Sales by Salesperson by:

This Week
Month to date
Quarter to date
Year to date