Analyze type reports allow you to see your data in more detail.
Depending on the underlying Report your are running the Column headings will change to suit that data.
Use an Existing Analyze Favourite
We have set up some Favourite reports as Analyze type reports already to get you started.
Analyze type reports have an icon with gridlines, like a spreadsheet, when you view a list of Favourite Reports.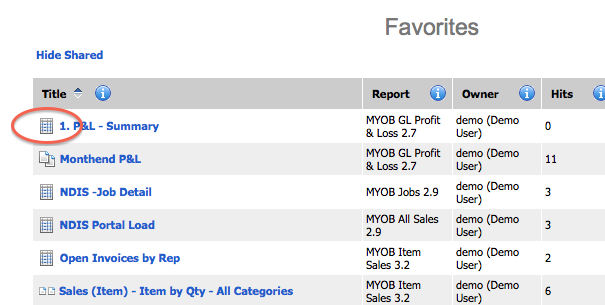 See how the Columns change depending on which underlying Report you are viewing
GL Profit & Loss
Profit & Loss reports show Actual, Budget and Variance.

Item Sales
Item Sales reports show Qty, Average Cost, Average Price, Total Costs, Total Sales, Profit, Margin%.

Item Purchases
Item Purchases reports show Qty, Ave Cost and Total Purchases.

Jobs
Jobs reports show Income, Cost, Expense, Profit and Margin%.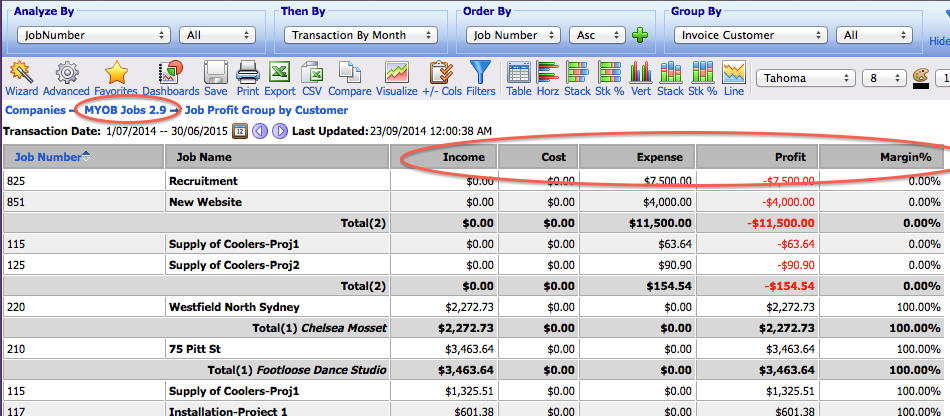 Jobs -Job Detail
However Jobs reports may show different Column headings if the Analyze by dimension changes (Row dimension).
The report above Analyzes by Job Number.
Change the Rows to Job Detail. Now you will see each Transaction, Description, Memo, GL account, Date, Customer etc.

See these columns and more by clicking the +/- Cols icon.
Move columns to the Show column to see them in your report.
Move Column position using the Green up/down arrows.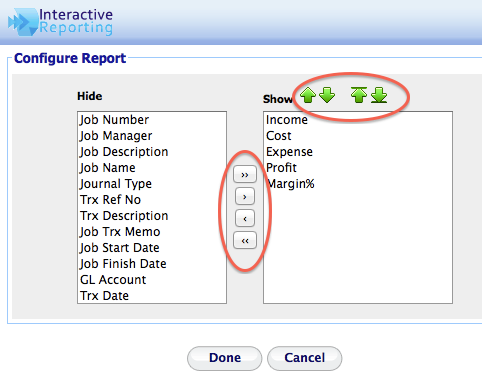 Detail
All Analyze Type reports will have a Detail row option.
Reporting at the Detail level will report at the underlying Transaction level and will allow you to see EVERY AVAILABLE field as a column to Hide/Show.
Click here for more on using Detail reports.