We have two changes to the Job Budget Analysis reports.
Analyse by Transaction Date
The Job Budget Analysis report has always been dated "as at now" with no ability to report on activity in prior dates.
We have now introduced the ability to filter on transaction date so that one can see activity up to say last month end or over weeks, month, quarters and so on. It is also possible to create pivot reports on job, account and other dimensions with the other side of the pivot being a date dimension.
This ability now highlights a limitation of MYOB job budgeting
Budgets in MYOB are "all of the job" - ie. Job Budgets. So although you can breakdown a budget in the type of budget activity (ie. income, cost, expense) there is no breakdown for the date. Job Budgets are assigned a date of the Job Start date
Monthly Period Budgets
To address this limitation we have developed a monthly period budgeting capability such that one can budget the type of activity AND also break this down for particular months.
These new Monthly Period Budgets can be entered and maintained when logged in as BI Administrator.
The screens looks like this -
Accessing the new functionality

1. Select the Job to Budget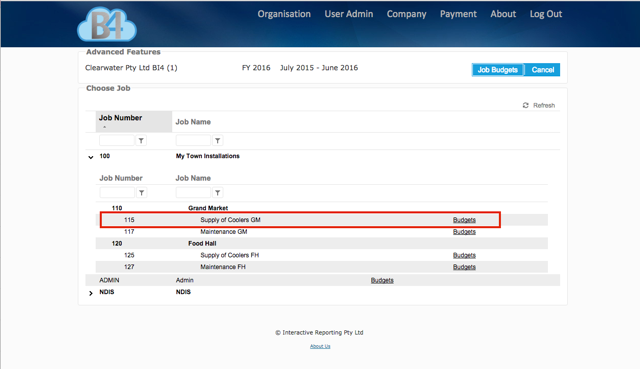 2. Key in the monthly budget figures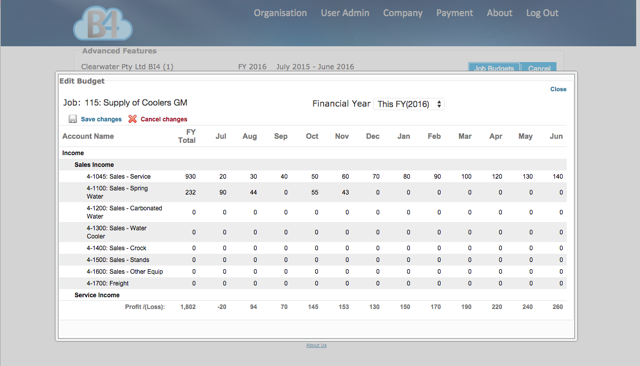 We understand the size and level of projects that many users have to deal with is such that they will likely continue to use existing MYOB all of job budgets and not these monthly budgets
So why are we telling you ?
To implement this we must differentiate between the different types of budgets, the traditional MYOB "Job Budget" and the new BI "Period Budgets".
So there is now a mandatory filter Budget Type that can be selected to switch between "Job Budgets" and "Period Budgets"
This is available in the Filter panel and also displays in the result panel.
Here is the Job Budget - the MYOB standard budgeting - in pivot of Job vs Month and one can see the single budget value at the start date of job

Counterpoint this to the Period Budget of the same job and now the budget vs actual has meaningful output each month.

Using these Period Budgets one can get useful Month and YTD comparative reporting

Action you need to take
Because of this change your existing favourites that use the old Job Budget Analysis mapping will not work with the new mapping. We need to remove access the old mapping
You need to recreate any favourites to use the new mapping and for a short period we will have both the old and new mappings available.
The old mapping is called Job Budget Analysis 4.7 *EOL* - this will be removed after 30-Nov-2015
The new mapping is called Job BudgetAnalysis 5.0
This new functionality will be on BI Cloud from Wed 11th November.
A tutorial on using this new feature can be found Using Jobs to run Departments or Cost-Centres with Monthly JobBudgets