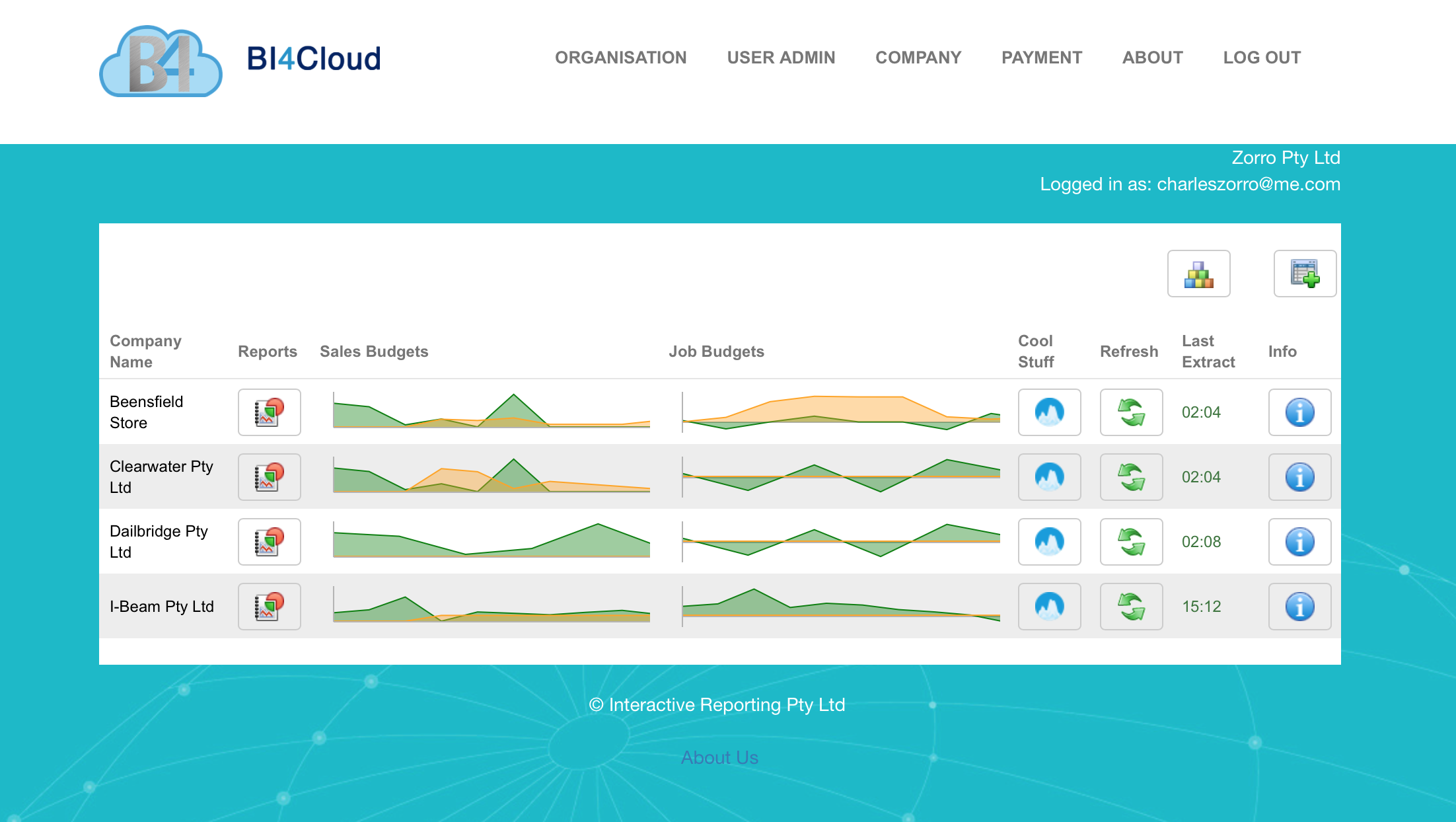 Summary
The Admin Panel has been re-written. Icons replace buttons and new Spark Charts now provide a quick snapshot of each company.  You can choose which of the Sales, Jobs and Profit and Loss spark charts appear on the Admin panel. In this release you cannot change the chart parameters. In future updates we will be adding further charts.
The screen presentation changes in response to changes in browser size this improving the application's ease of use on mobile devices. Why is mobile so important?
What is new in this release - November 2016
Login Panel Notifications
It starts with the login screen. This is responsive and scales depending upon the device.
Look out for the new notification panel that has messages and clickable links so you can keep up to date on what's changed.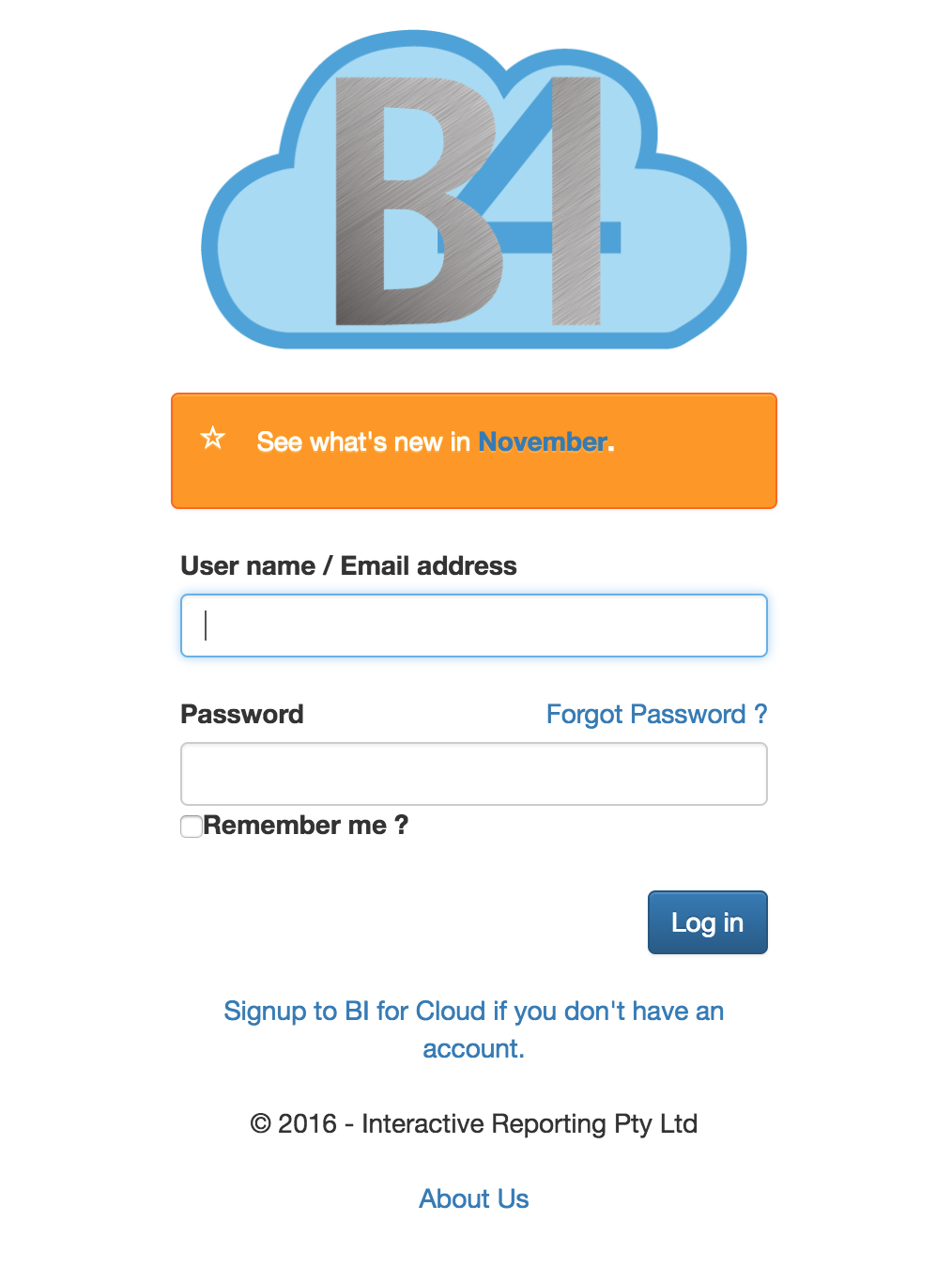 Admin Panel Company Snapshot
The Admin Panel has been redesigned and now has additional functionality and new spark charts. The name 'spark chart' arises because when line graphs are shown in this density they resemble a spark. The rows that display company info have changed as well as new buttons for Add company and Group company. You can hover over the icon to get a balloon help.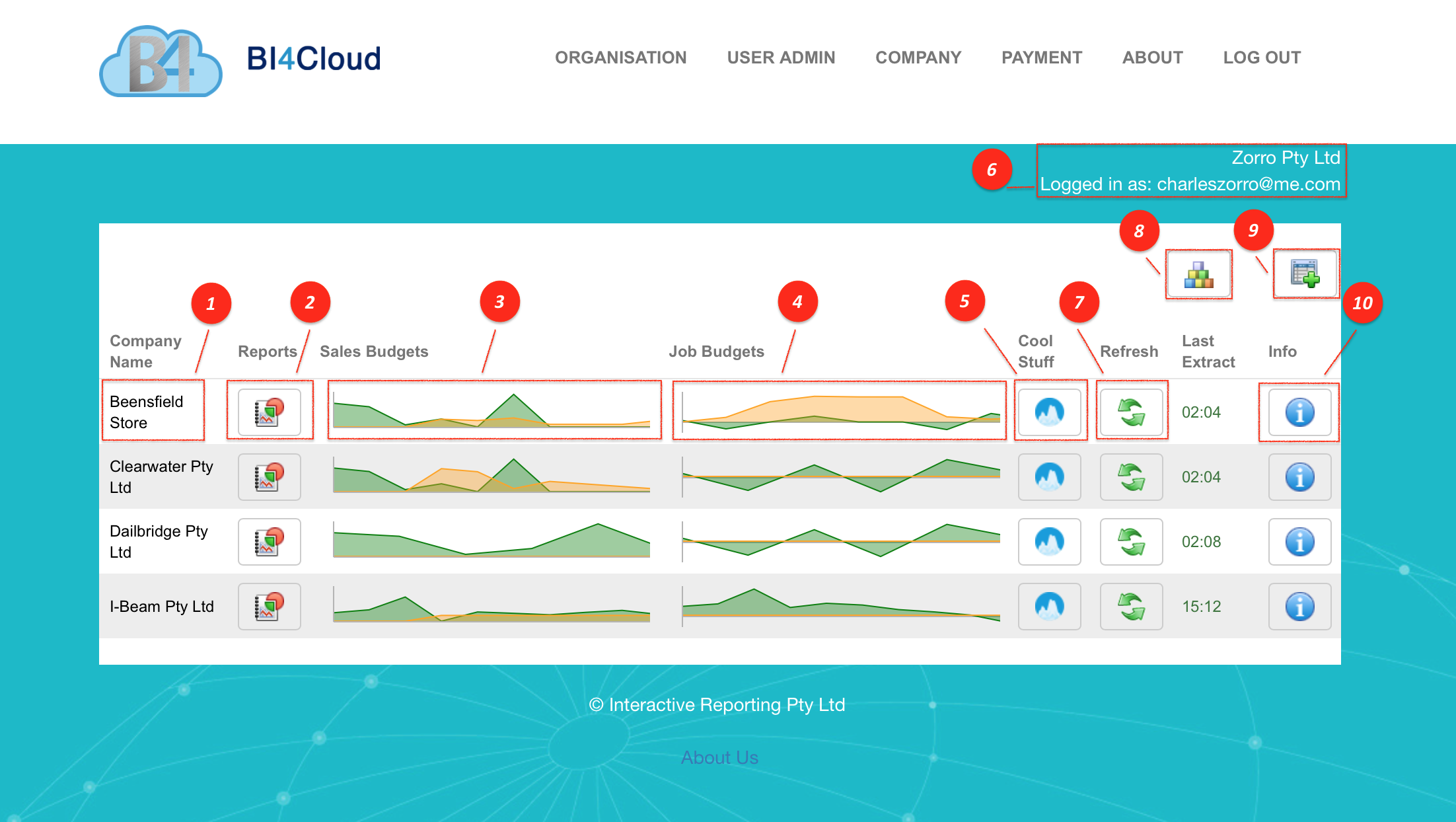 The legend is -
Company Name
An icon link to Run and access your Report
A spark chart showing Item Sales vs Budgets
A spark chart showing Jobs vs Budgets
An icon link to the Cool Stuff panel - Sales Budgets, Divisional Setup, Job Budgets (Monthly)
The Organisation and Logged in user name
An icon link to Refresh data
An icon link to Group Companies together
An icon link to Add Companies
An icon link to Information panel and just to left is the last extract/refresh time or date if not today
Click the Information button and the following panel is displayed which shows more detail about the company, provides Edit and Disconnect Buttons and some charts.
In this release we have charts for -
Sales vs Budget - Area or Bar graph 
Jobs vs Budgets - Area and Bar graph
GL Profit and Loss - Bar and Line combo
This panel scrolls to show additional graphs. To the top right of each chart is an icon button that looks like a table. This links straight to the tabular favourite report that is being shown graphically. In one click you go from Dashboard to Detail.
You are able to select which of these graphs appear as a Spark Chart when you first login to the Admin panel by checking the "Display as Spark Chart" check box.
In future updates we will be adding more graphs and the ability to filter dates.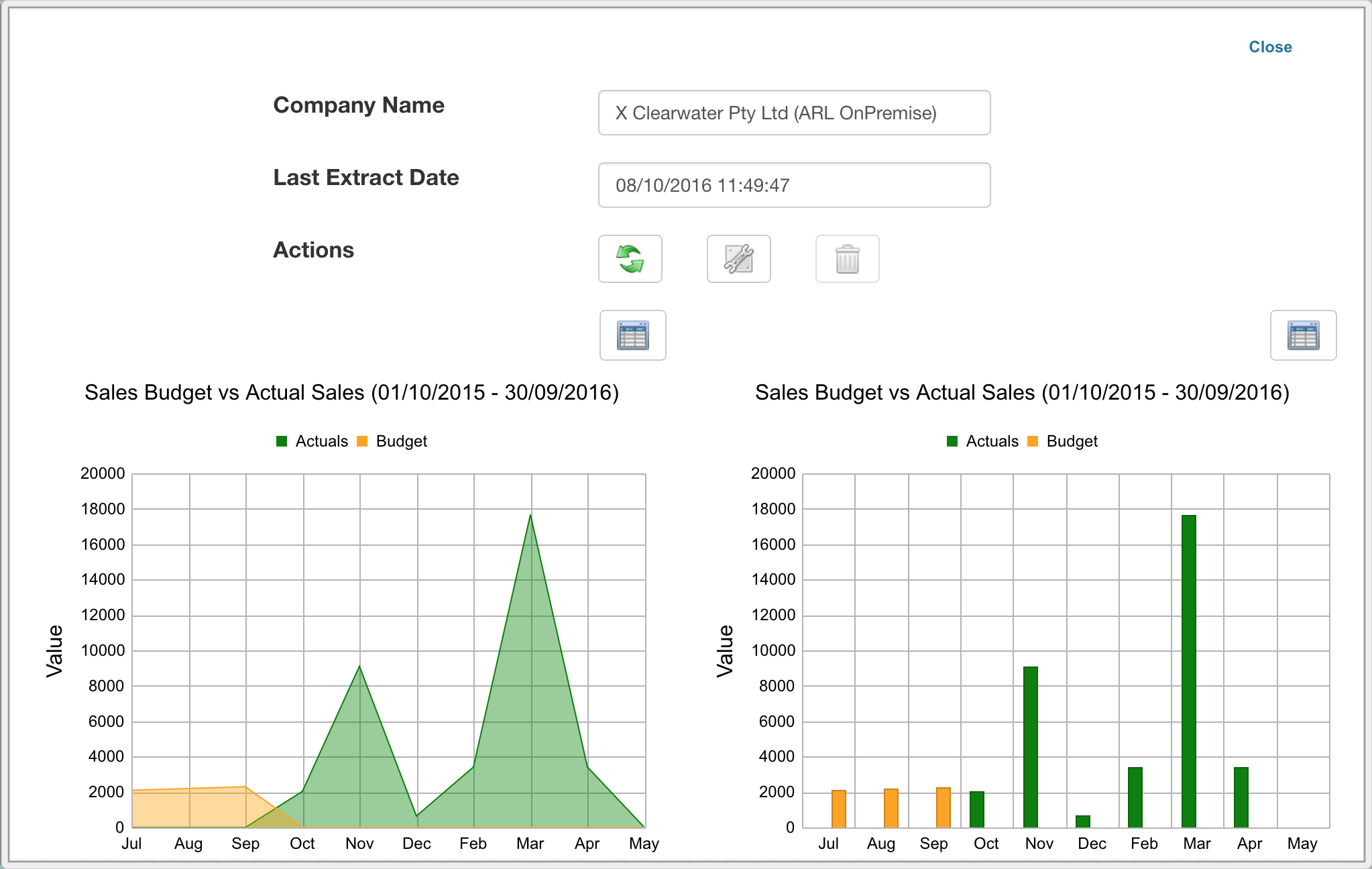 Below is the detail screen that is displayed when you press the Table icon above Sales v Budget graph.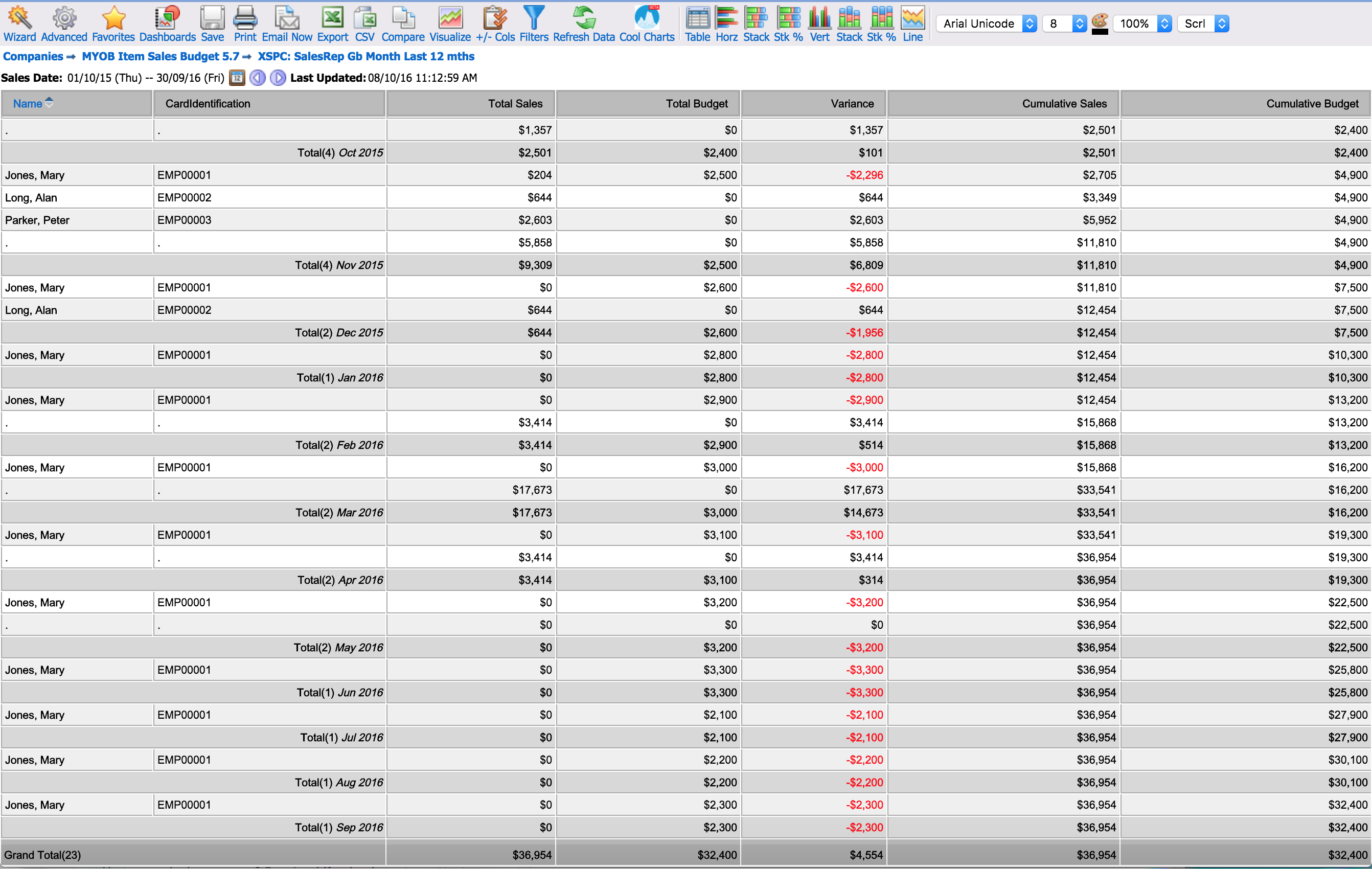 Sales Budget Export / Import
We have added an Excel Export and Import to the Sales Budgeting function.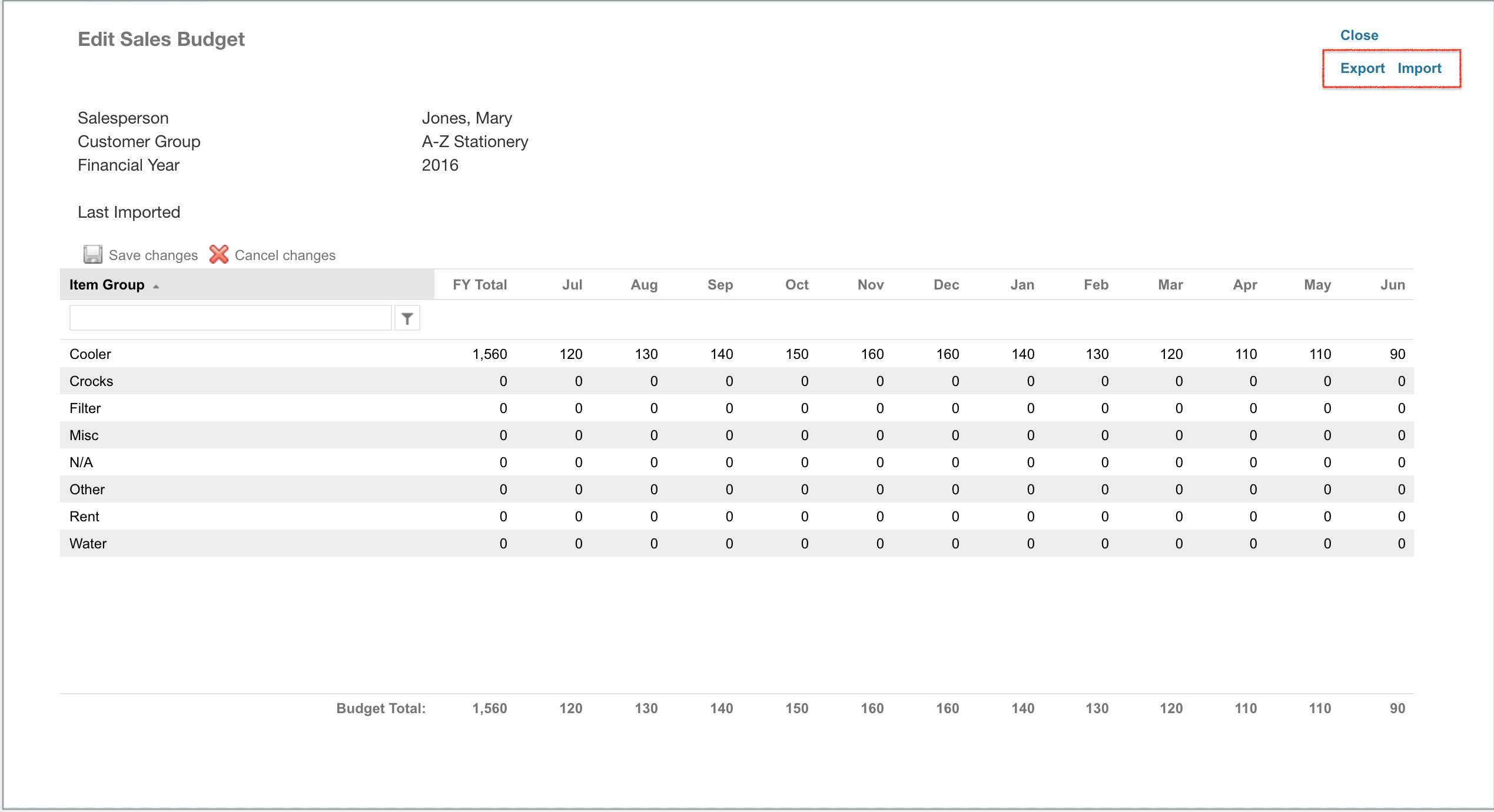 The resulting export can be opened in a spreadsheet and edited. Please restrict changes to the area marked in red. The other row and column elements are used during the import and should not be changed.

The workflow is -
Export to Spreadsheet
Make your Edits in Excel
Import from Spreadsheet.
If you close the budgeting session before importing the spreadsheet then you will need to be cautious that your are editing the same budget elements you exported otherwise the import will fail or possibly bring in wrong data.
Emailer
We have made changes to the emailer so that email attachments have the name of the favourite they are based upon.
General Ledger and Year End
With MYOB when you roll into a new year you have the option of purging completed transactions.
Because BI4Cloud relies upon these detail transactions this results in the LOSS of data in reports when looking at last year data.
Please refer to this article on preventing purging of data at year end
This can be devastating for many of our users however some users who use General Ledger reporting are ONLY focussed the current year in detail and are happy with last year in summary.
In response to this need we have changed the way the Profit and Loss report sources it's data from.
Summary - When running the report and analysing by Account, Account Classification and Account Levels the information source is the GL period movements i.e. Summary mode.  
Detail - When Analysing by Journal, Cost Centre or Job the source of information is the Journal Transactions i.e. Detail mode.
If your prior year's data has been purged then the bottom line figures for last year between this two sources will be different. It's not a bug but rather a consequence of your data being purged. You can rely upon Summary Mode to have values that reconcile to your accounting software.
We hope you enjoy the new release and we'd like to hear your thoughts. 
Please leave a comment below (you will need to create support account) or tweet about us using @bi4cloud or like us at Facebook fb.me/bi4cloud
Why is mobile so important?

Simple. In the last 8 months of 2015 twenty million new users started using the Internet in SE Asia. The bulk of them did this on mobile devices. In the same year mobile Internet usage overtook Internet Desktop usage as the preferred way to access the Internet. This is why Google ranks websites higher if they work properly on mobile devices. That is why earlier this year we re-wrote our website bi4cloud.com and our help desk support.bi4cloud.com to work better with mobile devices. Now it's the turn of the bi4cloud application and you will see us progressively improving the experience on mobile devices over the coming months. The Web design approach that works well on a desktop, a tablet and a phone is called Responsive Web Design (RWD).

Have you checked to see how your website looks running on a mobile device?

 
bi4cloud.com