Many accounting systems have two separate places where you can allocate a "Salesperson". It is important to first understand how your business operates and which of these methods best suits you.
Customer Salesperson
You can allocate one Salesperson to each Customer.
In MYOB do this under the Selling Details tab in each Customer Card.
This method is easy as you only need to allocate the Salesperson name once, then all Sales to that customer will report in BI under this Sales Rep.
In BI we call this the Customer Sales Rep dimension.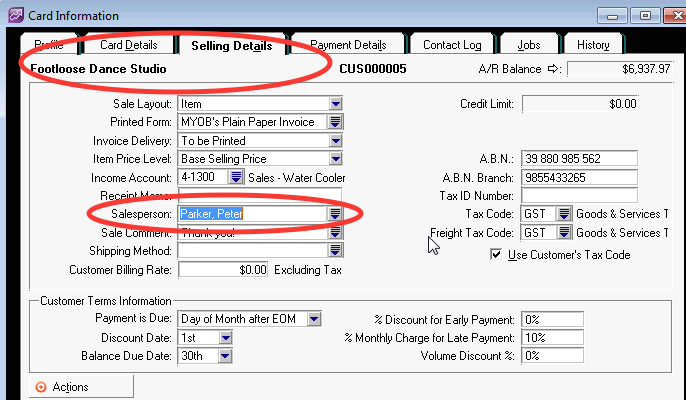 Invoice Salesperson
You can instead allocate one Salesperson to each Invoice.
In MYOB do this when you enter each Sales Invoice.
This method can allocate a different Salesperson to individual Invoices even if they belong to the same Customer. This method is more time consuming and can result in errors as every Invoice must have the correct Salesperson name on it. However if you have large customers that can be serviced by different Salespeople then this is the best method to use.
If you have also set up a Salesperson against the Customer in MYOB then this name will appear by default as the Salesperson name in the Sales Invoice. However you can change this to be another Salesperson if specific invoices belong to another rep.
In BI we call this Invoice salesperson the Salesperson dimension.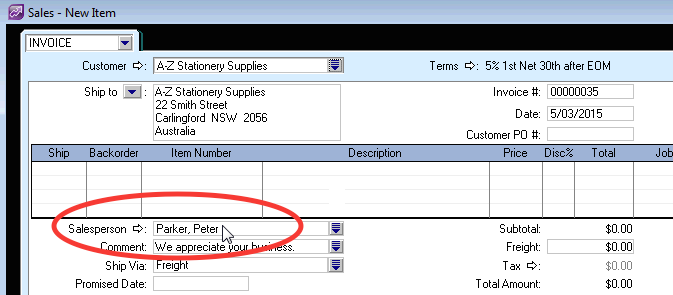 Which Salesperson to use in Business Intelligence?
Most businesses will choose either the Customer Sales Rep or the Salesperson (Invoice Salesperson) to report on using BI.
Customer Sales Rep
Use the Customer Sales Rep to report:
Analyse by Customer Sales Rep to see one line per Customer Sales Rep.





Analyse by Customer and Group by Customer Sales Rep to see all customers linked to each Customer Sales Rep.




Pivot on Customer Sales Rep to see them in Columns




Invoice Salesperson
Likewise you can use the Invoice Salesperson to report in exactly the same way.
However, if you use Invoice Salesperson you need to be very careful that each and every invoice has a Salesperson allocated to it. Simply run the same reports and replace the Customer Sales Rep dimension with the Salesperson dimmension.
Using a combination of Customer Sales Rep & Invoice Salesperson
Some business choose to run a combination of the two methods. If for example the majority of customers have just the one Sales rep however there is one large customer which can have multiple Salespeople associated with it, then for just that one Customer you can allocate different Salespeople to each Invoice, for the Others allocate a Salesperson to the Customer.
Using BI you can also double check your data by running a report using both the Customer Sales rep And Invoice Sales rep Dimensions.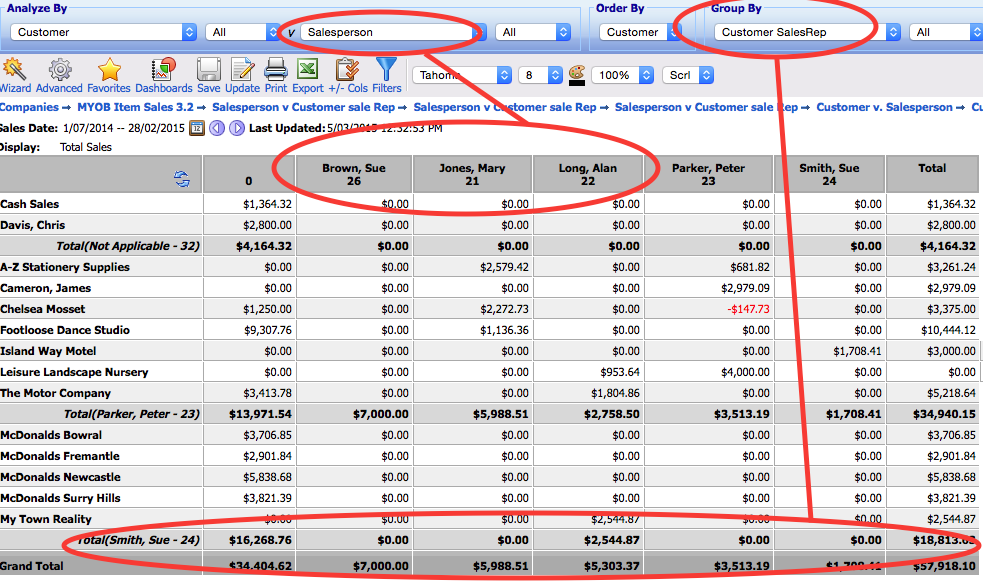 Choosing whether to us Item Sales or All Sales BI Report as the Base BI Report?
Most of the Favourite Reports are built using the "MYOB Item Sales" Report type. This will ONLY report on MYOB Sales using the Item Sales Layout.
If you also use the Service Layout or other Non-Item Sales Types in MYOB then you should use the "MYOB All Sales" Report type. Often companies enter rebates, credits and discounts as Non-Item Sales Type transactions.
When running Sales reports to calculate Salesperson commisions it is important to ensure that all rebates and credits are deducted so you may need to base your reports on the "MYOB All Sales" Report type.
See below how you can see which Report Type each Favourite is using.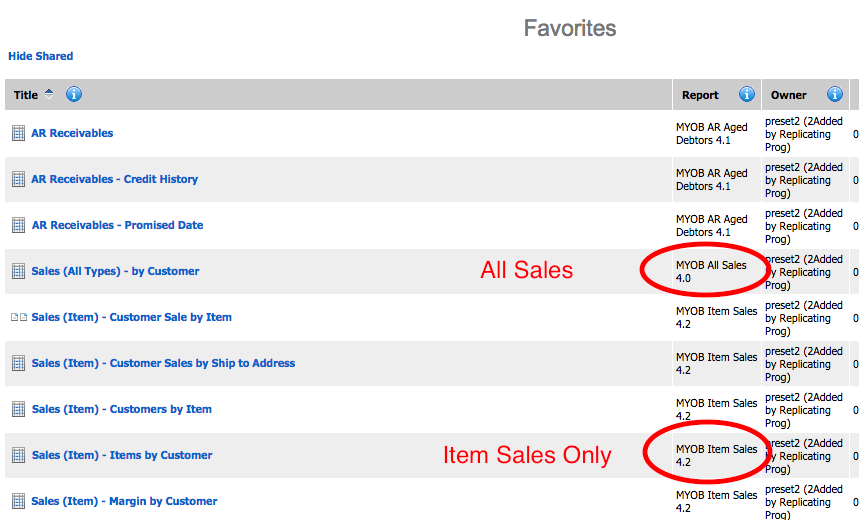 Also see the Article on Calculating Commission for Salespeople: Click Here