Introduction
There are a few ways that you can get support on questions and issues for BI4Cloud.
Self Help
The fastest and most efficient way is to look in our searchable help articles for answers on your issue. Goto bi4cloud.com > Help > Help Centre and search for an article that covers the topic you need answered.
You will be presented with a screen like the following and you can either look through the list of topics or enter your question in the search field.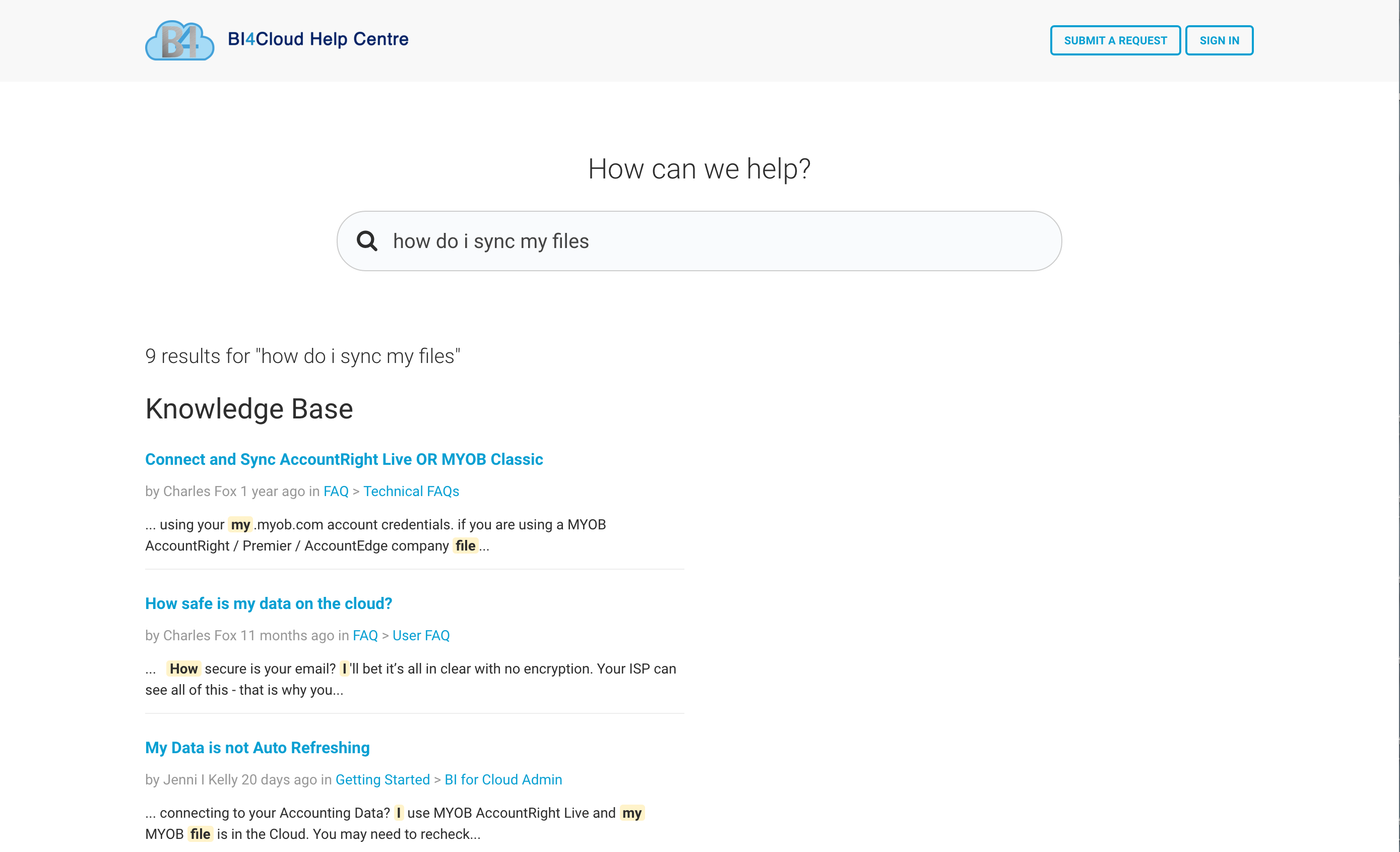 if you cannot find what you are looking for then submit a request.
Submit a Request
Simply press the submit a request button

You will get this screen and you can then enter your request by providing your email, subject, description and also add examples and screenshots. As you add a subject line you will be provided lists or articles that pertain to that.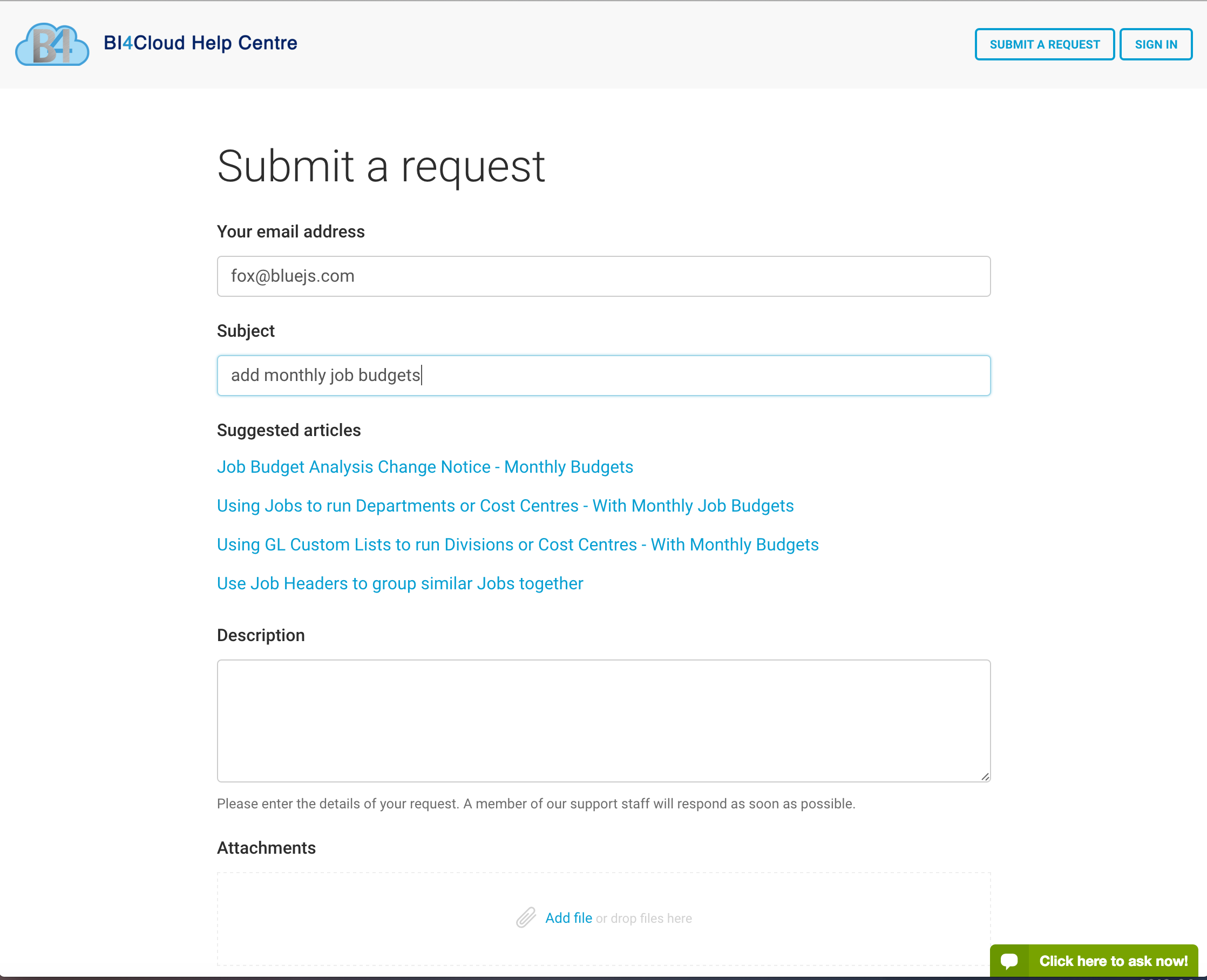 You should try to ask for one topic per request. This is more efficient as different consultants can be working on your requests at the same time and sometimes request can be answered easily where as others may take some investigation. Separating request ensures the best response.
Ensure you create a meaningful subject and that you provide a screenshot of the report you see including the headers so we can see the name of the report in question. If it's a reconciliation question be sure to send a screenshot of the accounting transaction and tie it back to the report. The better you describe and document the issue the less we will to and fro asking questions and you will get a resolution faster.
Adding requests in this way is good as you get related topics to search and you may get the answer with having to submit the request. When you submit the request you will get an email once your email address is recognised by a support consultant.
If you have a number of results pending your only way of tracking things is by using the emails responses we send. This can be problematic because there can be many emails in your inbox and finding the current status can require some searching.
If you create a Help Desk Account you can Sign In and submit requests as well as track the latest status.
Sign In
To create and account press the Sign In button on the top left of the screen.
You will be asked for a name and email address - please not this Help desk account is separate from you BI4Cloud credentials. You will get a screen like this.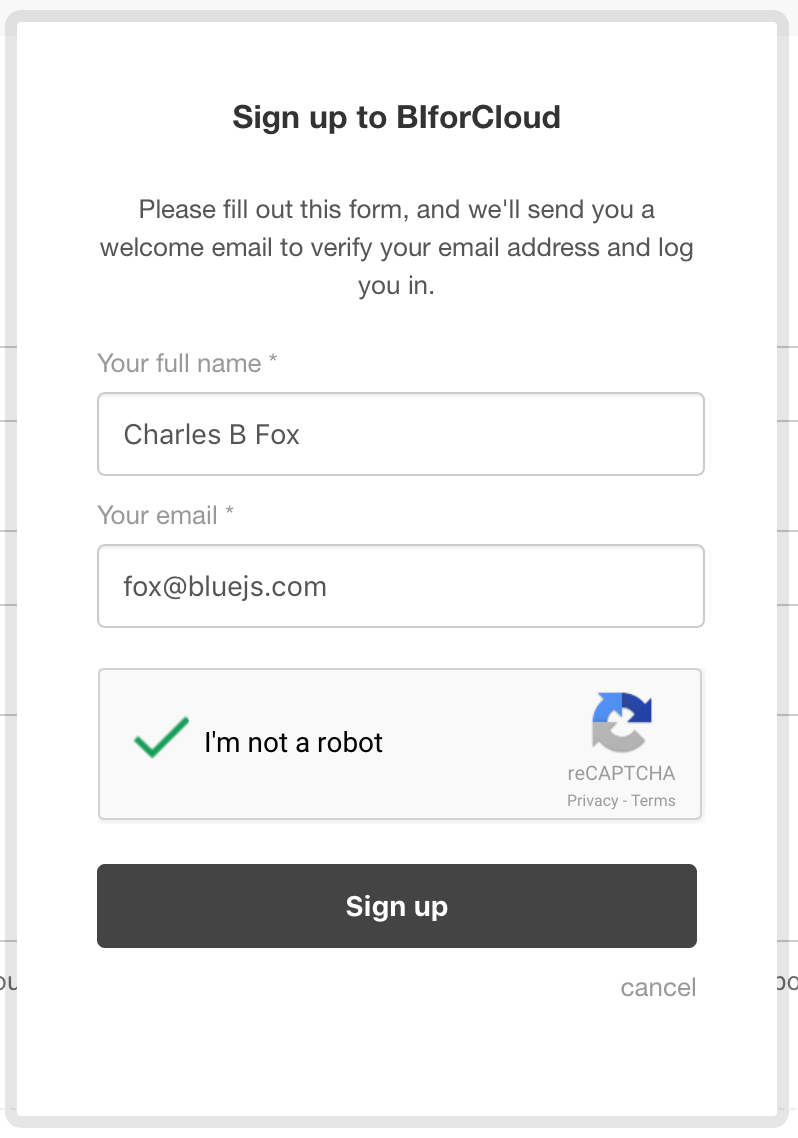 When you submit you will be sent a verification email to the email address you entered.

Press the link and then you be asked to create a password and then you can Sign In.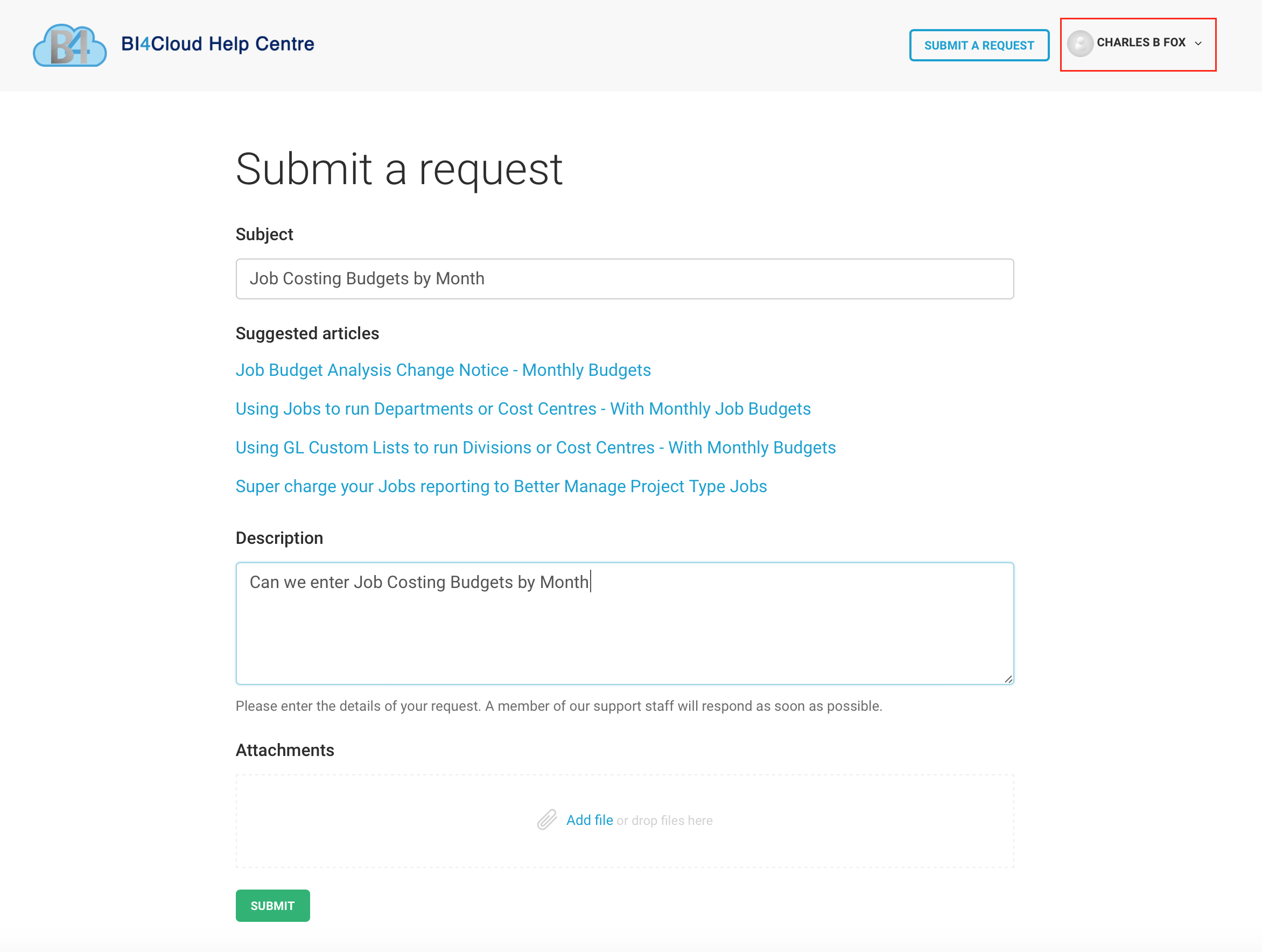 Now when you enter a request it will be tied to your login and once entered you can track it. If you click the name you will be able to access these features.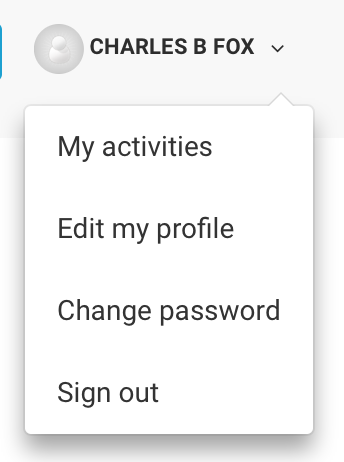 Choose My Activities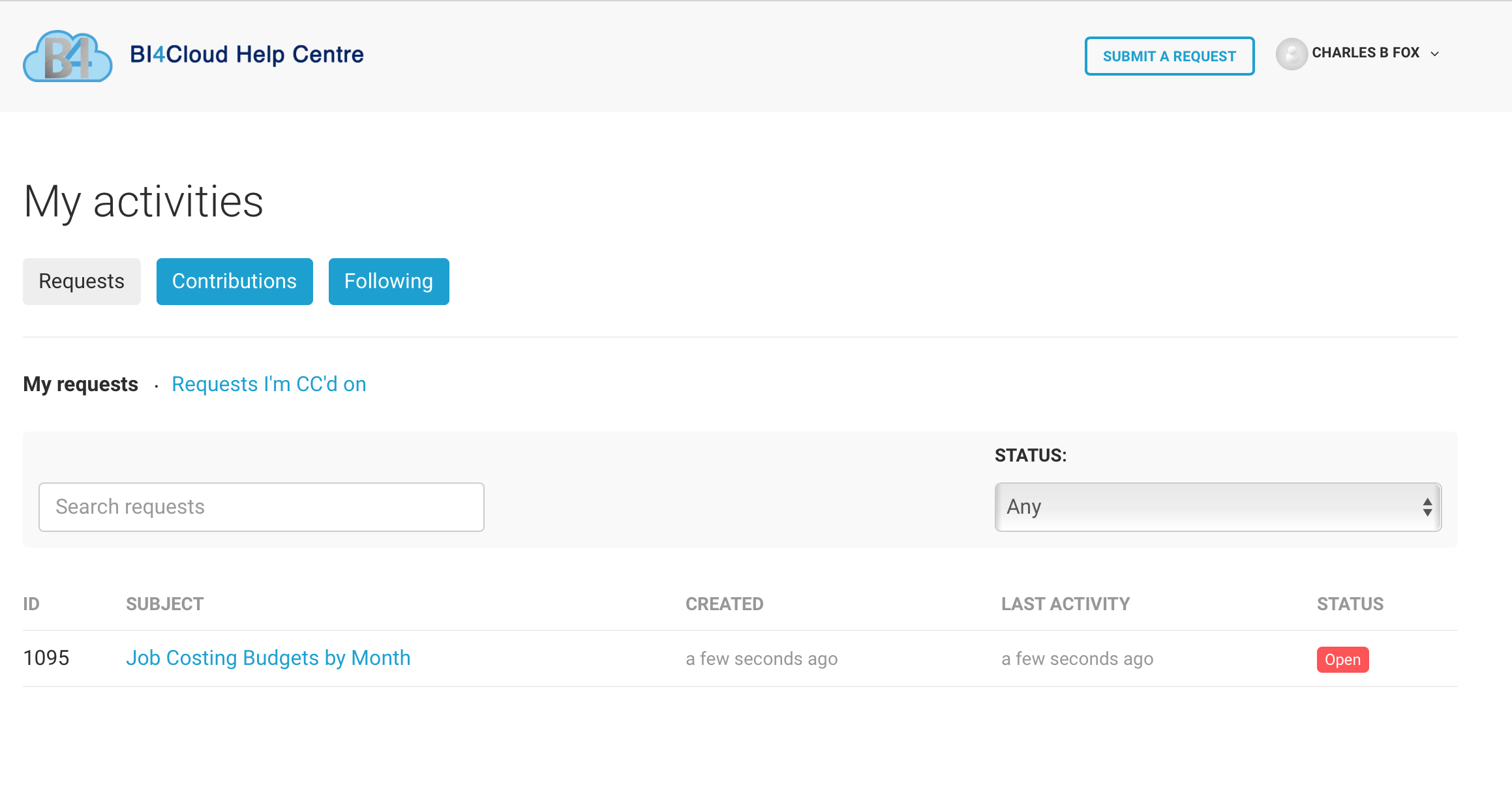 and you can add addition comments.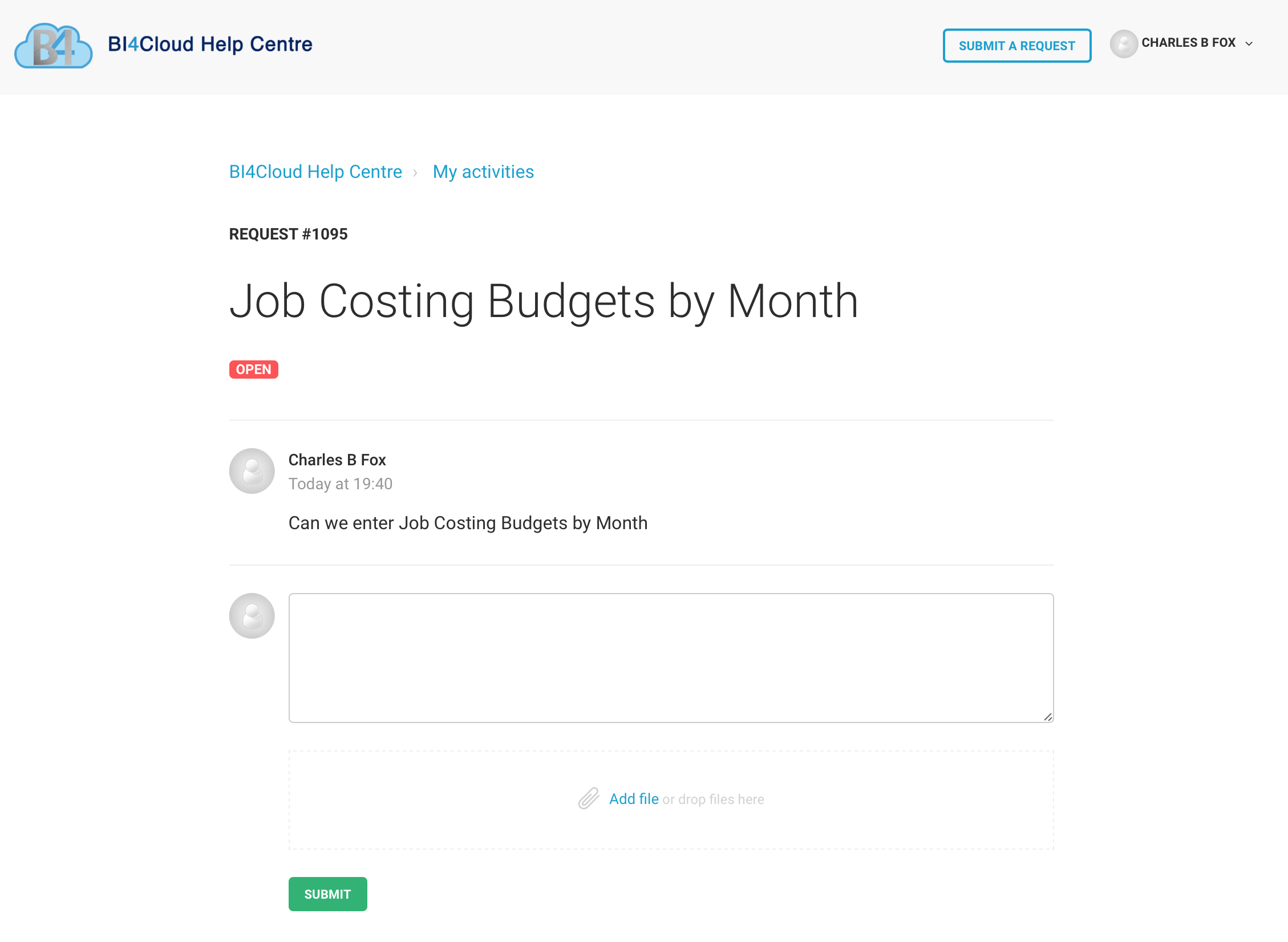 You only need to create the Sign Up once and just Sign In after that
The last and least efficient way is to send an email to us.
Support by Email
You can request support by sending an email to support@bi4cloud.com.
However we suggest this as the last resort as this is not very efficient on many counts.
- The email you send will contain all sorts of images such as your company images and tag line so trying to find the meaningful image of the problem is buried amounts logos
- The email will have your email signatures and disclaimers, if any, which fills up the incident text with nonsense
- Your screenshots are limited to 1mb and in an email you won't know if they got through OK
- To follow the resolution trail of an incident means you will need troll through long emails trying to follow the thread
- You will not have access to the list of issues and resolutions as you would if you created a help desk account (see above)
- Your email is in clear text. Emails are sent through several server on the Internet and can be incepted and read at any point. If you email contains secure information like passwords or corporate information there is a chance it can be seen by others apart from us.