Analysis codes provide a way to segment your business activity and allow you to analyse information by Department, Cost Centre, Program, Region etc.
The MYOB, QuickBooks Online and Xero products all implement analysis codes for categorisation of GL Account Activity.

MYOB Implements analysis codes as Categories and Jobs. More

QuickBooks Online implements these as Locations and Classes. More
Xero implements analysis codes as Tracking Category. More
Transaction Entry of Analysis Codes
The analysis codes are entered in transaction entry screens and each product differs on where these are entered. Schematically represented here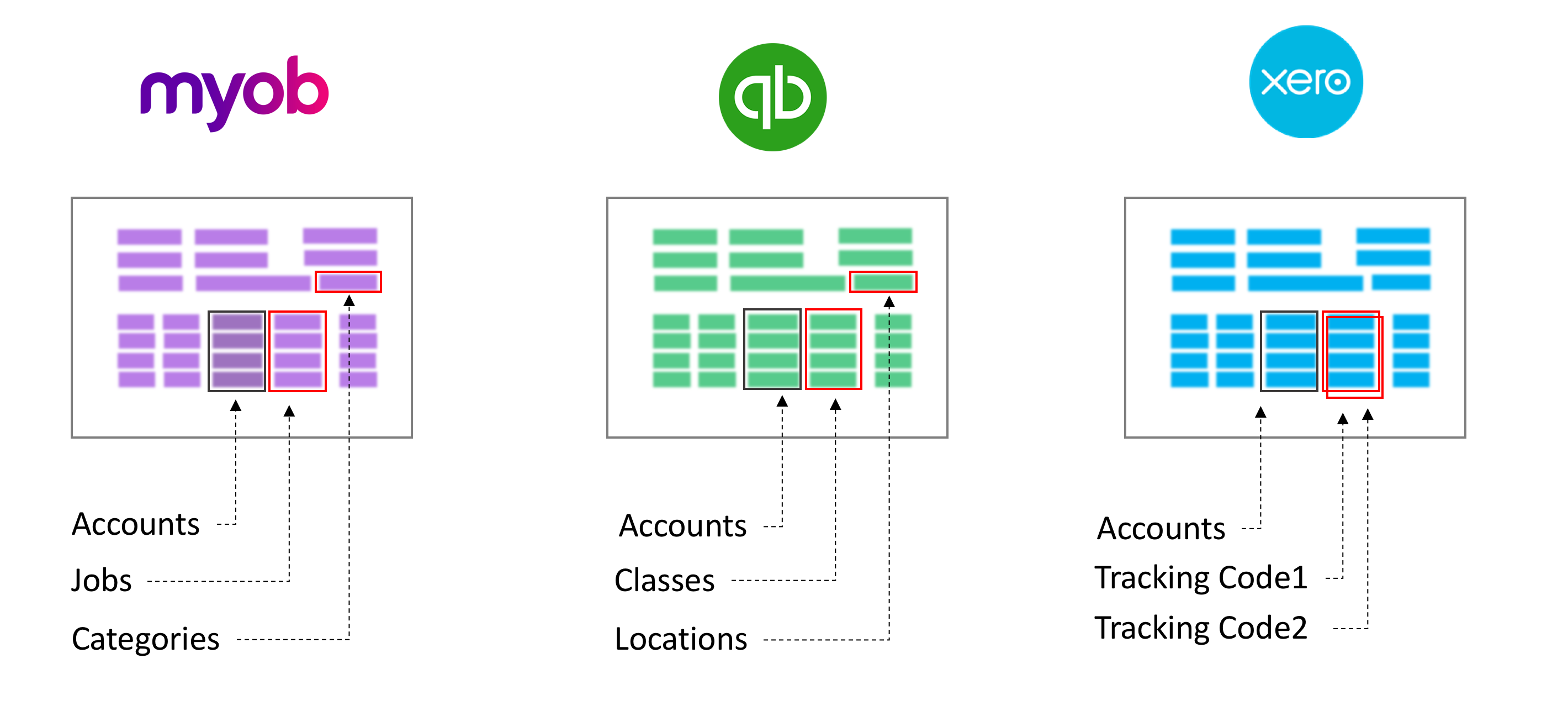 Budgeting by Analysis Codes
MYOB
no ability to budget at Category
can only budget a whole Job not by Month
Bi4Cloud adds Monthly Job Budget and Category Budget functionality
QuickBooks Online
Budgets can be manually entered for Locations or Classes
The entered budgets can be read by add-on solutions like Bi4cloud
Bi4Cloud integrates the QuickBooks Online Class budgets and also allows users to load in Class budgets to BI4cloud
Xero
Budgets can be entered for Tracking Codes
Tracking Code Budgets entered in Xero are not available in the Xero API
Bi4Cloud adds Monthly Tracking Category Budget functionality
Analysis Code Hierarchy
Analysis code hierarchy gives you the ability to create header analysis codes to simplify complex analysis structures.
For example a Not For Profit could use analysis codes for each of their Programs and then generate a P&L by program. They may wish to then group these by the Program Manager analysis code. Then reporting can be summarised and filtered by Program Manager.
Analysis Code Hierarchy is a nice to have and can simplify your reporting
MYOB
No hierarchy in GL Categories
Hierarchy in Jobs using Job Headers but no internal MYOB reporting uses it
Using Bi4Cloud the Job header hierarchy is implemented and reports can be summarised, grouped and filtered by Job and the Job hierarchy
QuickBooks
Hierarchy can be defined for Classes
QuickBooks Online provides reporting by Class
Using Bi4Cloud the Class hierarchy is implemented and reports can be summarised, grouped and filtered by Class and the Class hierarchy
Xero
No Tracking Code hierarchy exists
Bi4Cloud can report on the Xero Tracking categories and if you can code the Tracking Codes with "-" or ":" seperator Bi4Cloud will use this as hierarchy. Learn how to Implement Tracking Categories with hierarchy.
Reporting Functionality with Analysis Codes
Bi4Cloud uses a business intelligence (BI) tool to implement reports. This BI tool summarises your data in various dimensions of the underlying Accounting system. You can choose the dimension to Analysis, Filter by or Group by which gives you complete report flexibility.
This is represented schematically here.

Bi4Cloud provide over 50 default favourites which you can use to refine to define your own report needs.
Sign up for a free trial at Bi4cloud.com