Save Time by Combining Multiple Company Files Together
BI4Cloud Business Intelligence can be used to combine:
Profit and Loss and Balance Sheet data from the GL
Sales
Purchases
Jobs - MYOB
Class & Location - QBO
Tracking Codes - XERO
Receivables
Payables
Inventory
It works best if you use consistent codes in all of your Company files:
GL Account Codes - Or if your COA is not consistent use our new
Item Codes
Customer Card ID
Supplier Card ID
To see Companies Side by Side in Columns run a Pivot Type Report
Learn how to use Pivot - To see Multiple Dimensions at once

Run a Pivot Type Favourite Report - e.g. P&L Monthly is a Pivot with Months as columns
Change the "then by" (Column) Dimension from Months to Company to see Company in each column
+/- Col to hide the Company ID and Year from the Column header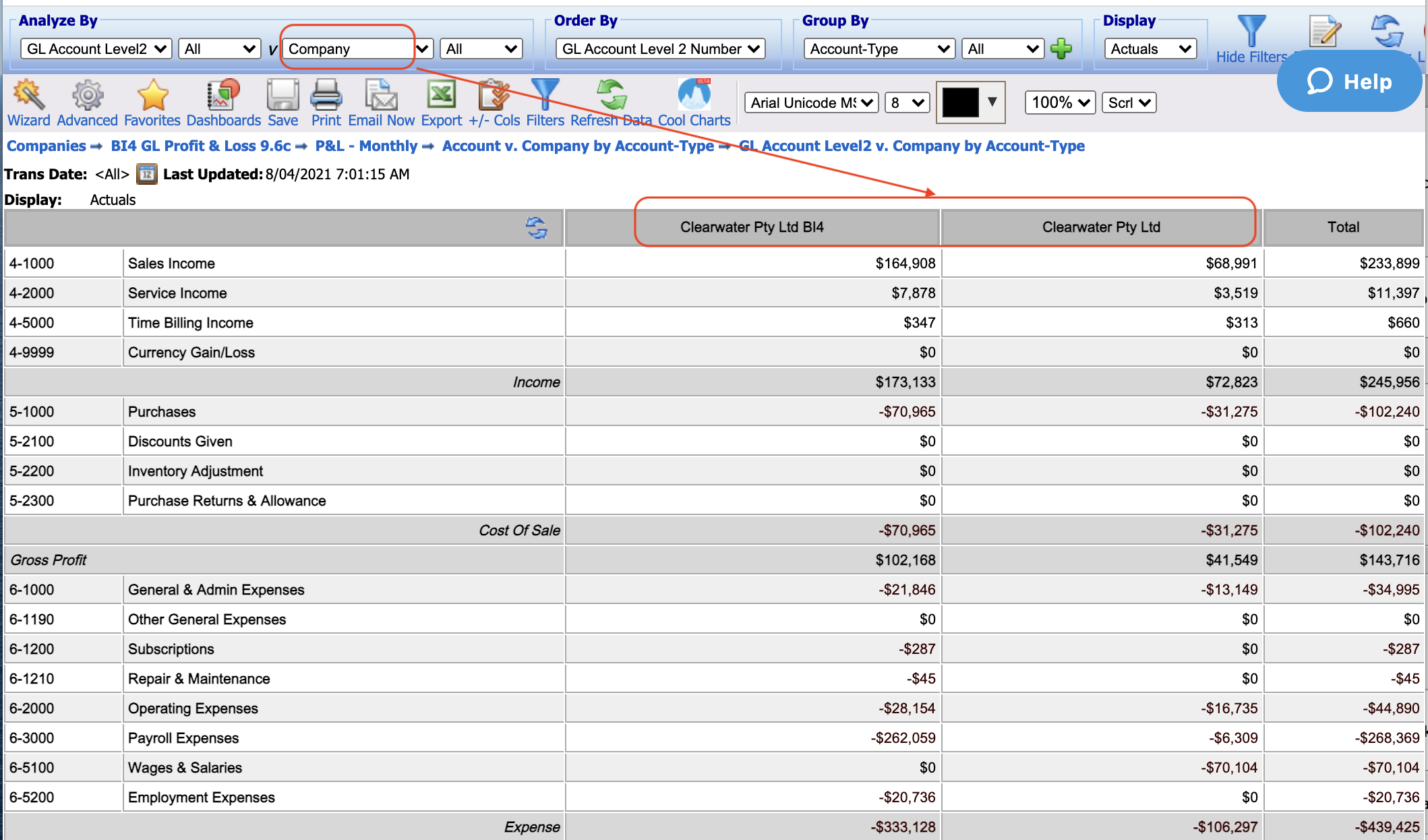 To see Companies Side by Side in Columns and different periods run a Pivot Type Report
Run the P&L Forecast report to see multiple time periods e.g. Month to date v Year to date
Convert the Report into a Pivot to also see Companies as columns
- Pivot - To see Multiple Dimensions at once
+/- Col to hide the Company ID and Year from the Column header

+/- Col to to select what columns to display

Consolidation Elimination Entries
To record Consolidation Elimination entries you have two options:
Create a new MYOB Company file called Consol Entries, enter all elimination entries as journals in this one Company file. Then add this company as another company in Business Intelligence and include it in your you Group Companies. The Consol entries will appear in your reports as a separate Column along with each of the other companies and the Total Group column will include the result of any Elimination entries.

or


Export your Consolidation report to Excel from Business Intelligence where you can insert an extra column and enter in any Elimination entries.
Note regarding currency:
Data in all reports will appear in the the raw local currency, so to do any FX translation you would need to export the reports to excel and translate to the one single currency as needed using the appropriate average or historical exchange rates.
Multi User Licence
To access the Consolidation feature you will require a Multi User BI Licence. A 3 User BI Licence will allow you to have 3 Users and let you access 2 Company files + the Group Company (2+1=3) for example.
Enabling Consolidation
Login to your BI Cloud account with the BI Admin login and password i.e. The one you signed up with
1. Select Organisation from the top menu and then scroll until you see the checkbox Advanced Database. Set this to Yes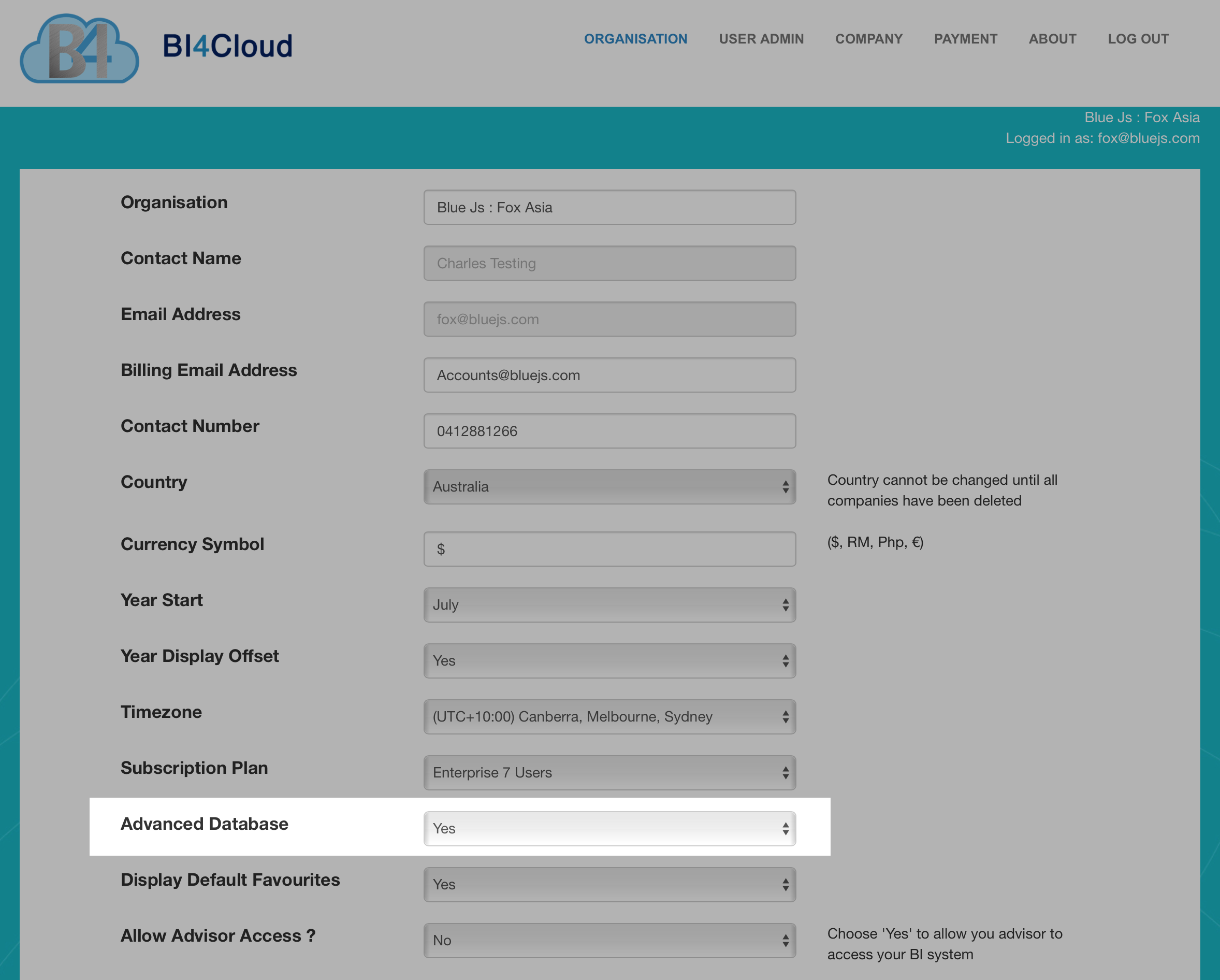 2. Select Group Companies when back on the Companies tab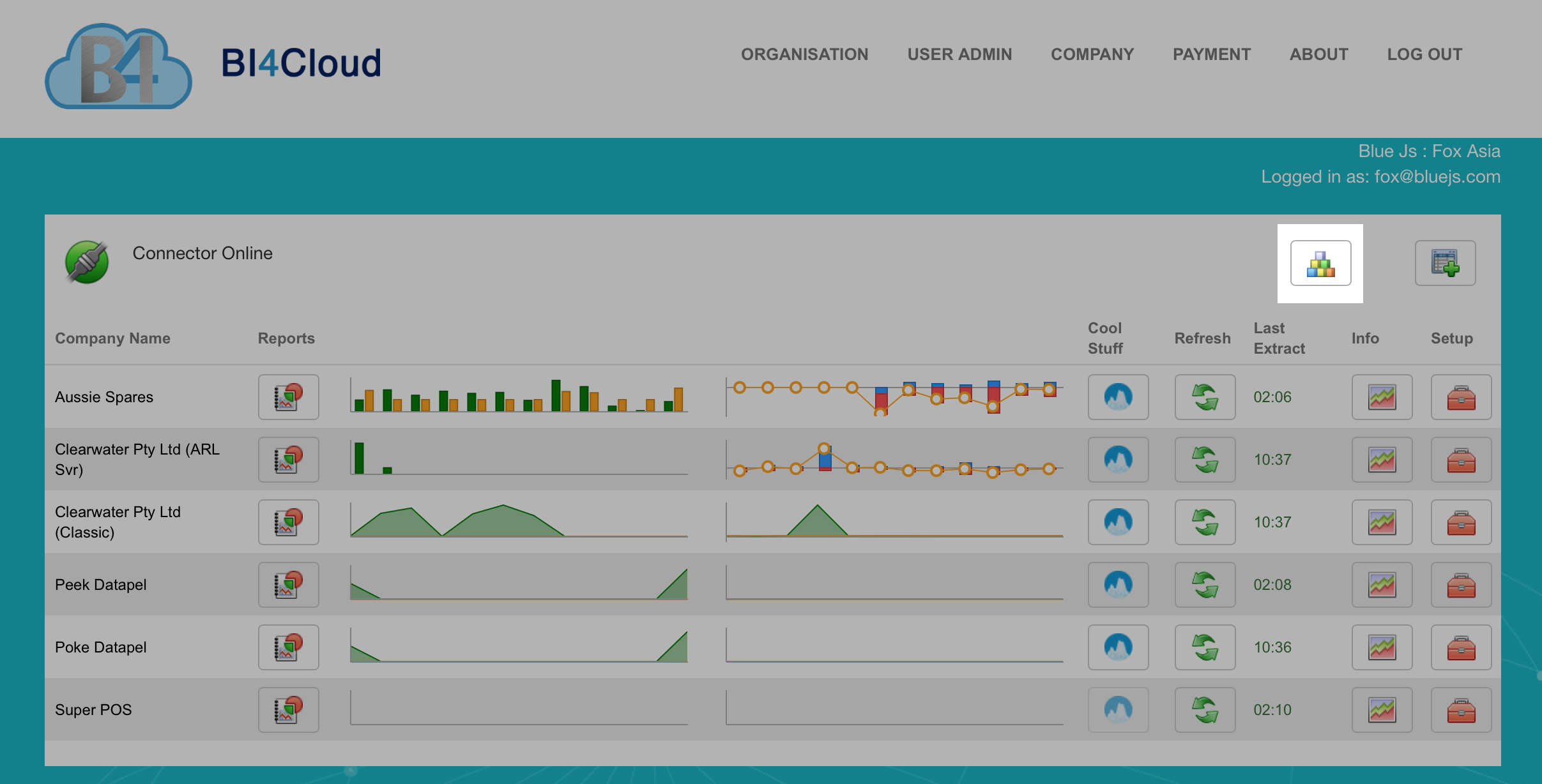 3. Next Tick Companies to include in the Consolidated Group.
You can only create one Consolidated Group so we suggest you Tick all companies at this step.
Later when creating reports in BI you can then Filter to include only some companies or maybe creat multiple consolidation groups.