Bi4Cloud provides a suite of business intelligence facilities for business owners to help them run their business and improve their teams performance.
Business Advisors can access their clients BI4Cloud to collaborate, advise, assist and consult in the business owners. Continue reading to learn how to get access to these advisor tools.
How do I become an Advisor ?
The relationship between an advisor and business owner is by an Advisor Code.
Step 1 : An Advisor will goto bi4cloud.com and select Free Trial and complete the details.
Step 2 : The Advisor sends an email to support@bi4cloud.com or their local country distributor and include the email address used to sign up and the organisation details and bone fide status as an Advisor.
Step 3 : Bi4Cloud will send an email containing an Advisor Code and links to training resources and online training facilities.
Step 4 : Advisor uses the resources to learn and understand the BI4Cloud features and functions and how they are applied to report on business activity.
Step 5 : The Advisor can have their clients use the Advisor Code either when the client signs up for a Free Trial or in the clients payment detail form. Also in the clients organisation detail form is an option "Advisor Access" which gives permission for the selected advisor to see the clients data.

Using the Advisor Facilities
Advisors login to bi4cloud using their bi4cloud credentials. They are presented with a Bi4Cloud Admin screen similar to a business owners screen which hows the advisor's company files ( either test or real files). Additionally there is an "Advisors" label to indicate your are logged in as an advisor and two options to access information about their clients.

1. The first option is the Client option on the menu bar. This provides access to all the Advisors clients.
It shows each Client organisation summary information. Clicking on the expand arrow ">" will then show each company within the selected client's organisation.  The information displayed here depends upon the level of access the client has given to the Advisor.
Minimally the information displayed will contain the company name and last extract time. If the Client has provided the Advisor permission then additional buttons and charts are displayed. An access button which links to the Client BI menu gives the advisor the ability to setup and configure clients reports and charts. On the same line spark charts display showing client business activity give the advisor a snapshot view of the clients business.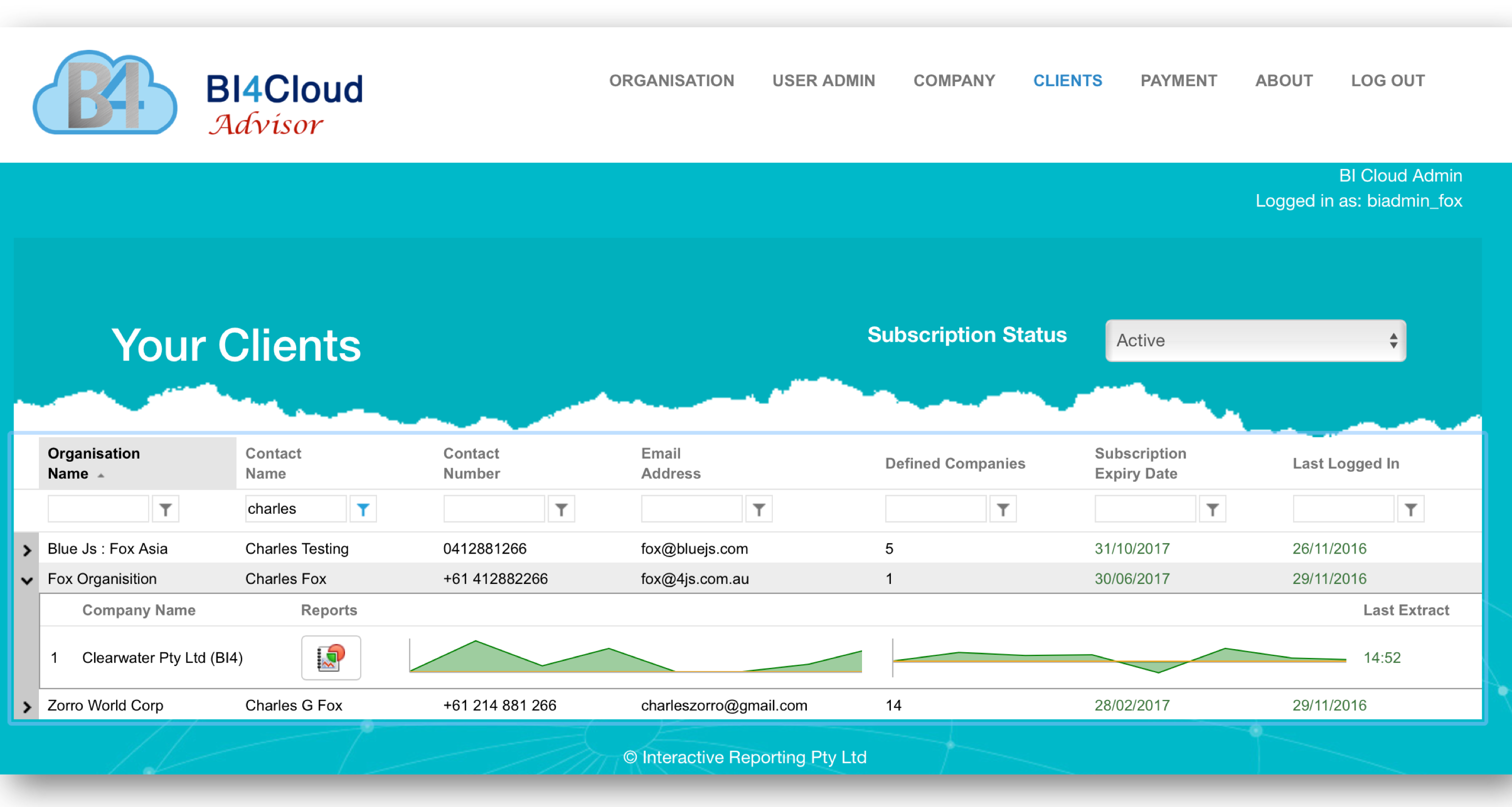 2. A second Advisor option provides access to the Clients Meta data including login statistics and the number of company files connected. There are several reports and charts here that will assist the advisor in monitoring clients activity and minimising client churn. In the screen shot below we show the churn report showing the login count for last 30 and 7 days indicating the usage frequency. Please try your account to see the other report options.