Introduction
Business Intelligence for Cloud (Bi4cloud) provides a suite of business intelligence facilities for business owners to help them run their business and improve their teams performance.
Bi4Cloud utilises the company's accounting system data and facilitates consolidation, slicing and dicing at both summary, intermediate and detail levels.
Bi4Cloud allows you to go beyond Profit and Loss or Cost Centre analysis by providing deep drill into business data to expose operation issues.
Up high: With Bi4Cloud KPIs and Financial ratios can set and alerted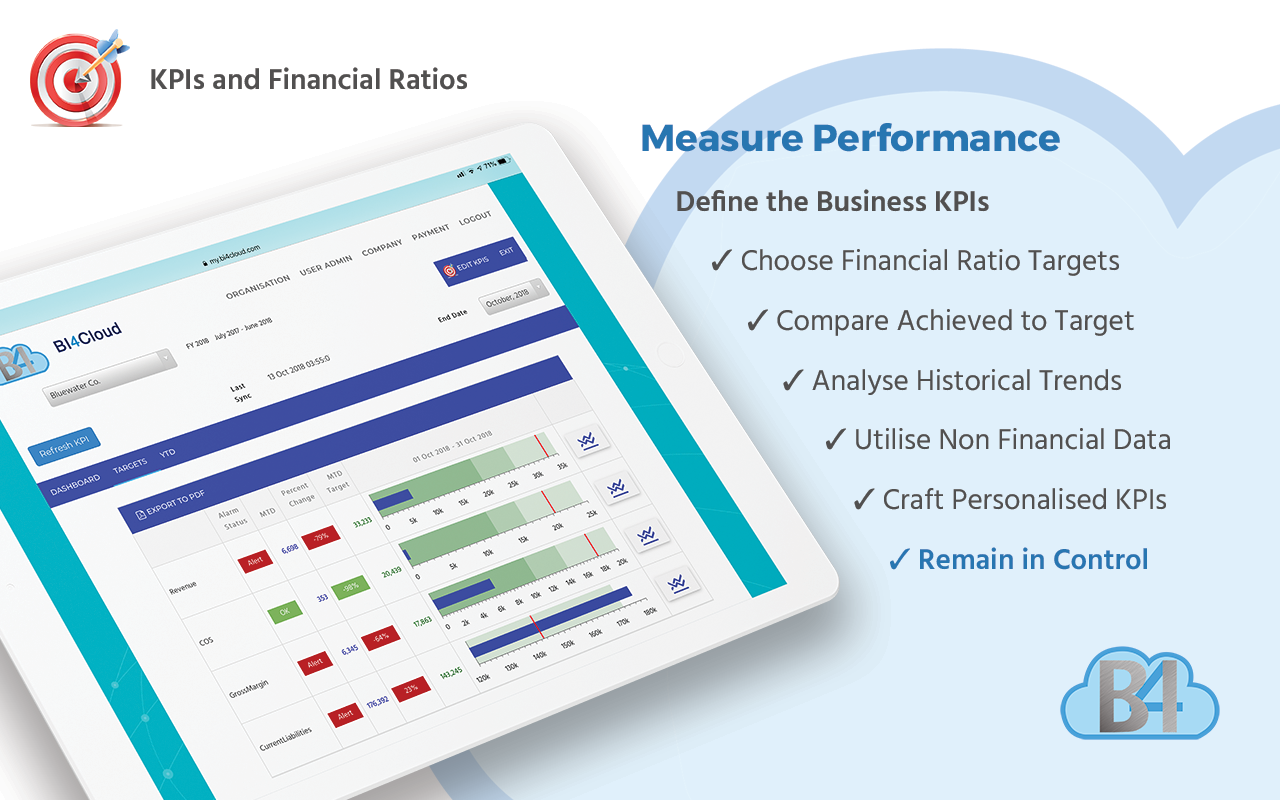 Down Low: Tabular detail output with filtering, sorting on multiple dimensions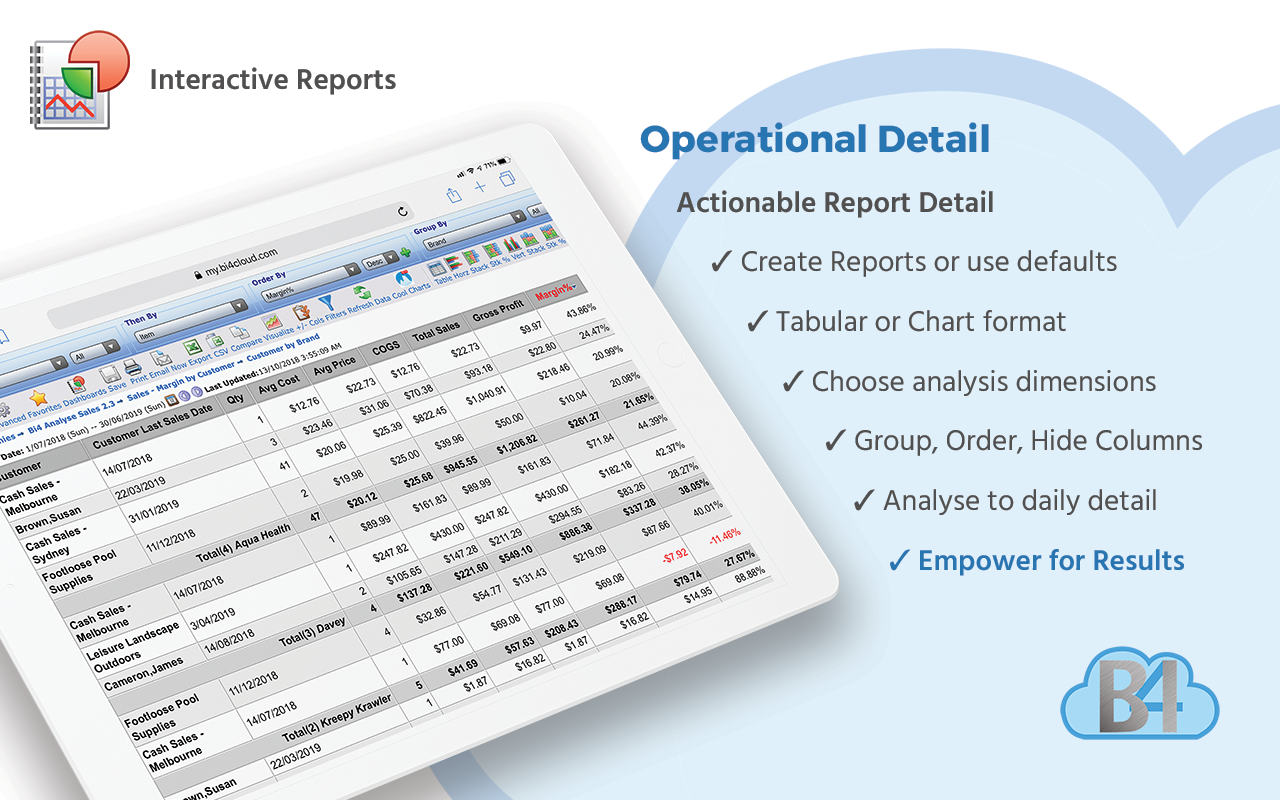 Intermediate Detail & Interactive: Cross filter, Dynamic Analysis. see Cool Charts in action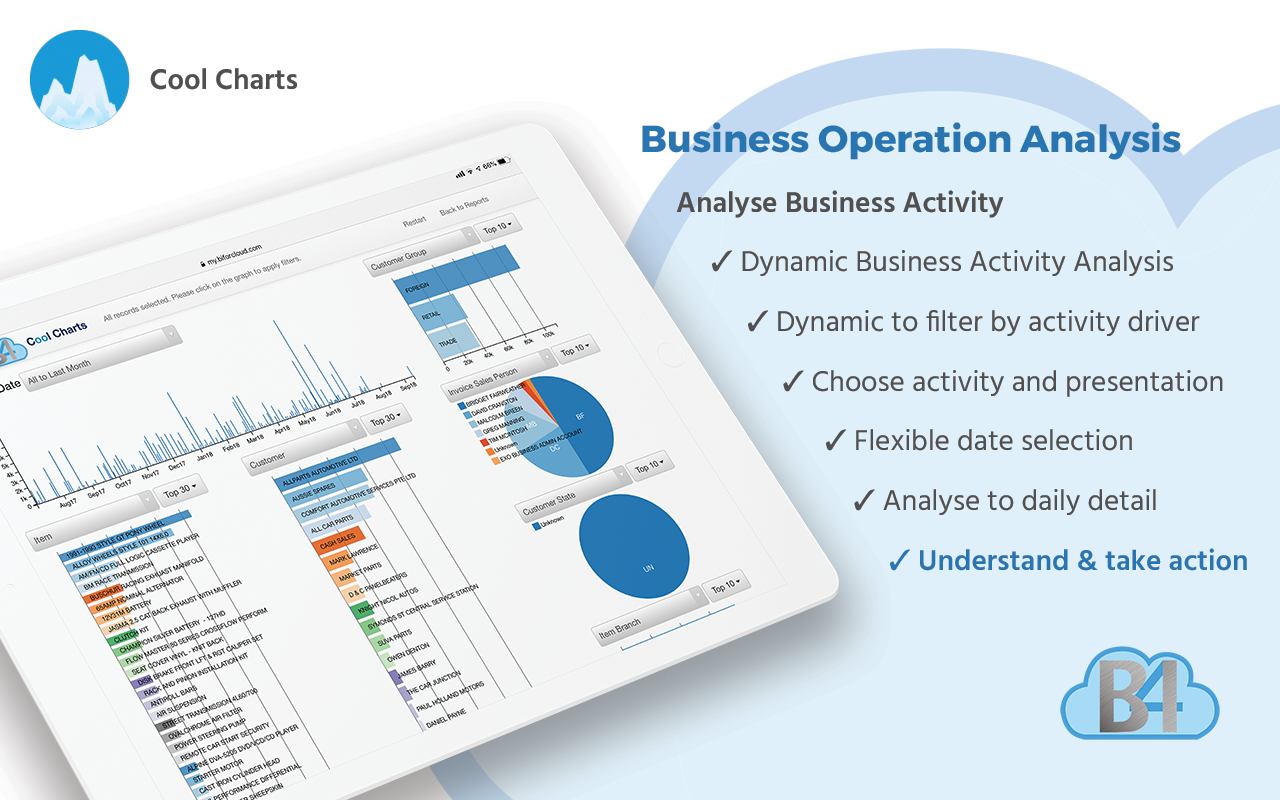 Bi4Cloud is delivered with 50 report samples that are tailored for a specific business needs based upon and Operational Analysis of the business
Identify | Checkpoint | Monitor
SMEs are often time poor and can lack experience in understanding operational drivers. They may have an accounts department and staff but not the CFO capability to understand and interpret what the numbers mean and what action should be taken. Here a Virtual CFO consultant can work with them, help identify their issues and checkpoint operational goals and setup reporting and charting to monitor and alert the CEO, managers, salesman and project engineers. Empowering the people to help avoid business failures and enable good businesses to be made better.
CFO experience and skill is leveraged by implementing their knowledge through KPIs, alerts and reports specific to the business needs
What are Advisor Facilities?
Advisor facilities is a feature in Bi4Cloud that provides a console overview for an advisor to manage their clients and access the clients reporting instance to setup reports for them. It also provides the advisor with client's activity analysis and churn.
Advisors access their own Bi4Cloud instance using their Bi4Cloud credentials. They are presented with a Bi4Cloud Admin screen similar to a business owners screen which shows the advisor's company files ( either test or real files). There is an "Advisors" label to indicate your are logged in as an advisor and two options to access information about their clients.
Business Advisors can access their clients BI4Cloud to collaborate, advise, assist and consult in the business owners account.

1. The first option is the Client option on the menu bar. This provides access to all the Advisors clients.
It shows each Client organisation summary information. Clicking on the expand arrow ">" will expand to show each company within the selected client's organisation. The information displayed here depends upon the level of access the client has given to the Advisor.
Minimally the information displayed will contain the company name and last extract time. If the Client has provided the Advisor permission then additional buttons and charts are displayed. An access button which links to the Client BI menu gives the advisor the ability to setup and configure clients reports and charts. On the same line spark charts display showing client business activity give the advisor a snapshot view of the clients business.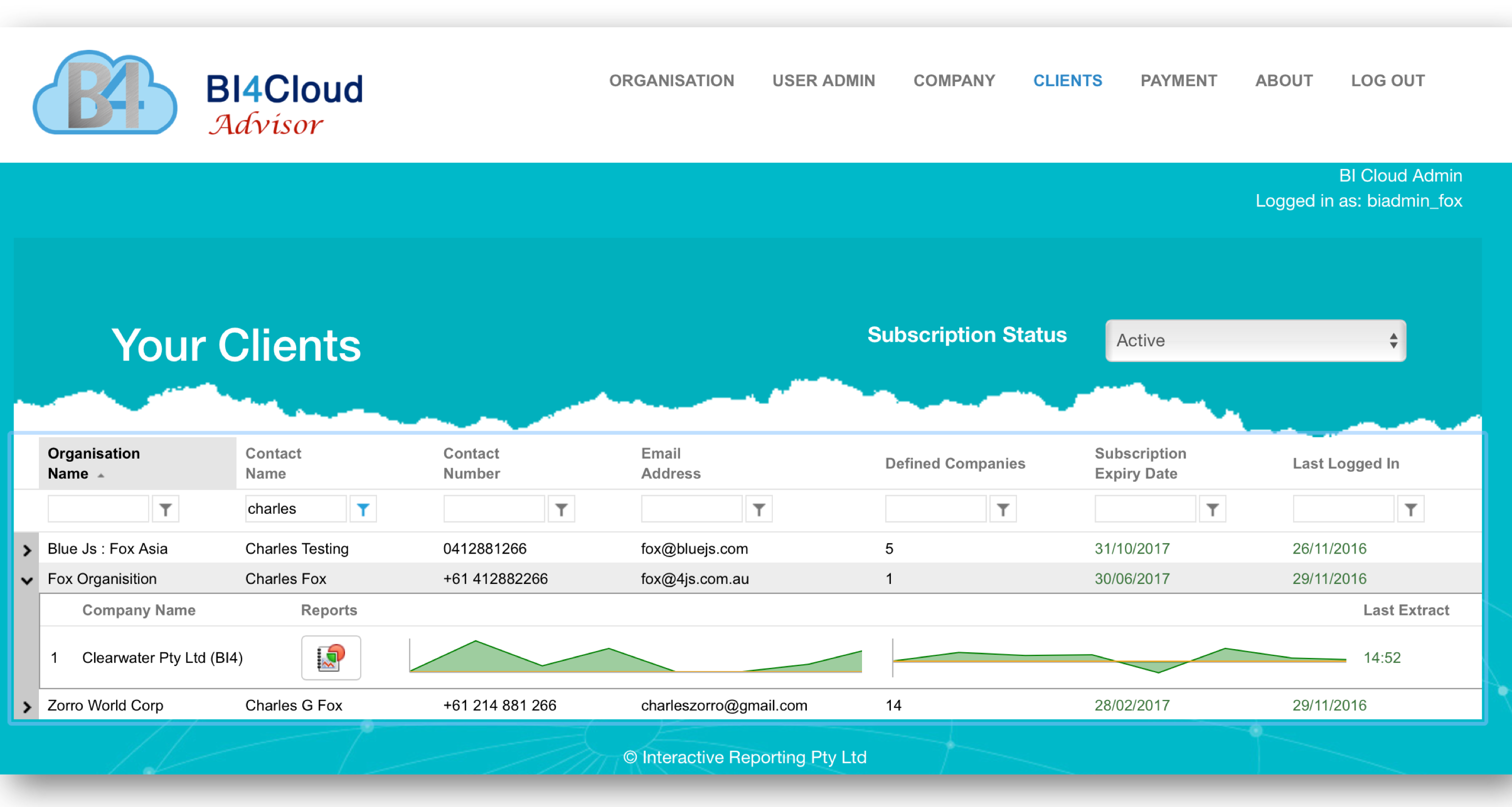 2. A second Advisor option provides access to the Clients Meta data including login statistics and the number of company files connected. There are several reports and charts here that will assist the advisor in monitoring clients activity and minimising client churn. In the screen shot below we show the churn report showing the login count for last 30 and 7 days indicating the usage frequency. Please try your account to see the other report options.

How do I become an Advisor ?
The relationship between an advisor and business owner is by an Advisor Code.
To become and Advisor
Step 1 : Goto bi4cloud.com and select Free Trial and complete the details.
Step 2 : Send an email to support@bi4cloud.com or their local country distributor and include the email address used to sign up and the organisation details and bone fide credentials that you an Advisor.
Step 3 : Bi4Cloud will send an email containing an Advisor Code and links to training resources and online training facilities.
Step 4 : Advisor uses the resources to learn and understand the BI4Cloud features and functions and how they are applied to report on business activity.
Step 5 : The Advisor can have their clients use the Advisor Code either when the client signs up for a Free Trial or in the clients payment detail form. Also in the clients organisation detail form is an option "Advisor Access" which gives permission for the selected advisor to see the clients data.

Further links