Implement Tracking Code Budgets in Xero using Bi4Cloud
Tracking Codes in Transactions
Xero provides categorisation of transaction activity with a feature of tracking codes in transactions. There can be two tracking codes and these can have 100 values. This is represented schematically below. ( See also Analysis Code comparisons )
Tracking codes can be used for salespeople, regions, activity centres in commercial organisations and programs, funding sources and grants in not for profit organisations
Tracking codes are setup with Xero in Setting > General Setting > Tracking Codes
In our example we've created a tracking code for Region and Salesperson. We have named these Region_TC and Salesperson_TC so as to highlight the usage in the examples. The tracking codes can be given any name although we have avoided putting spaces in names.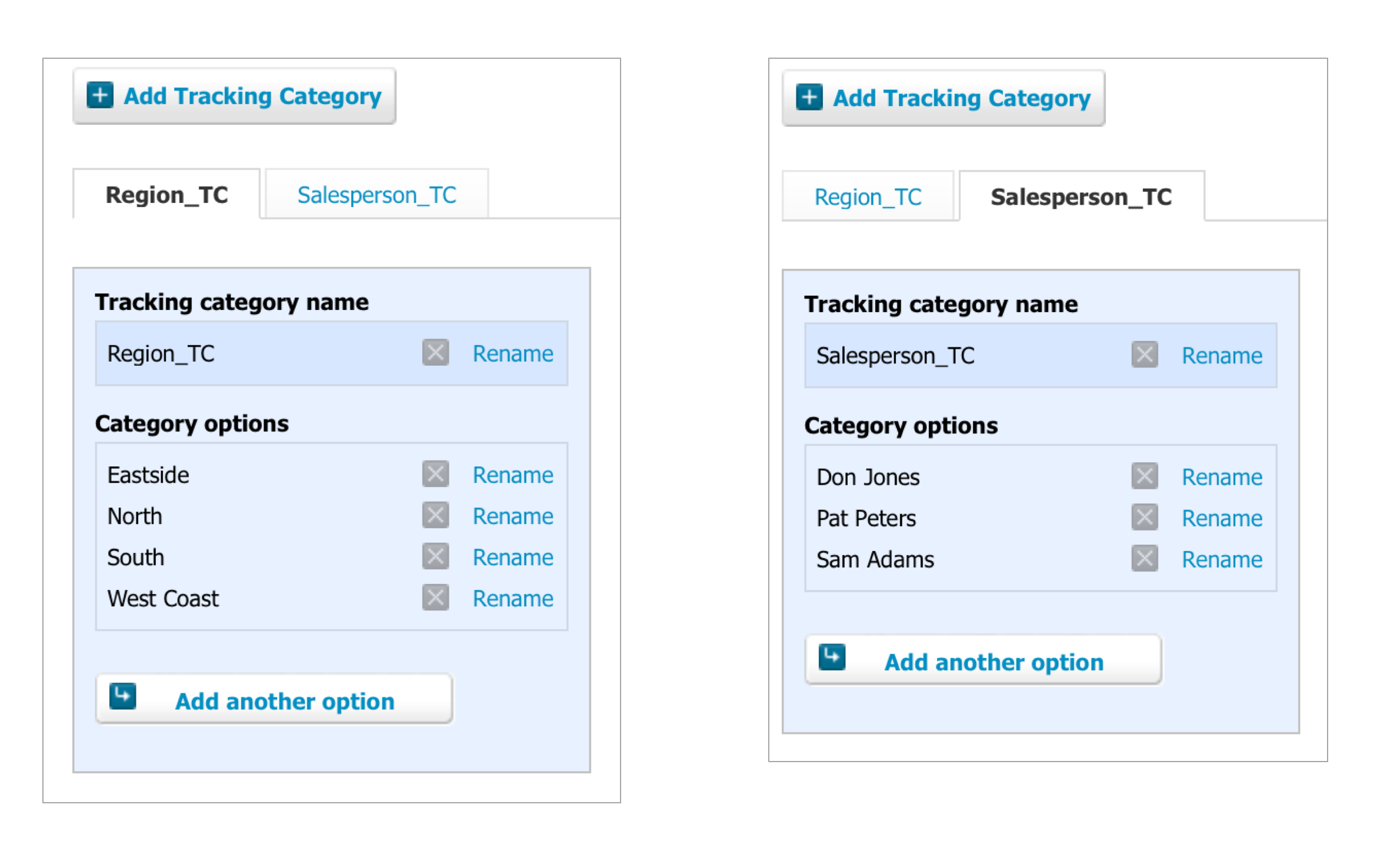 Transactions in Xero can have tracking codes against each transaction line.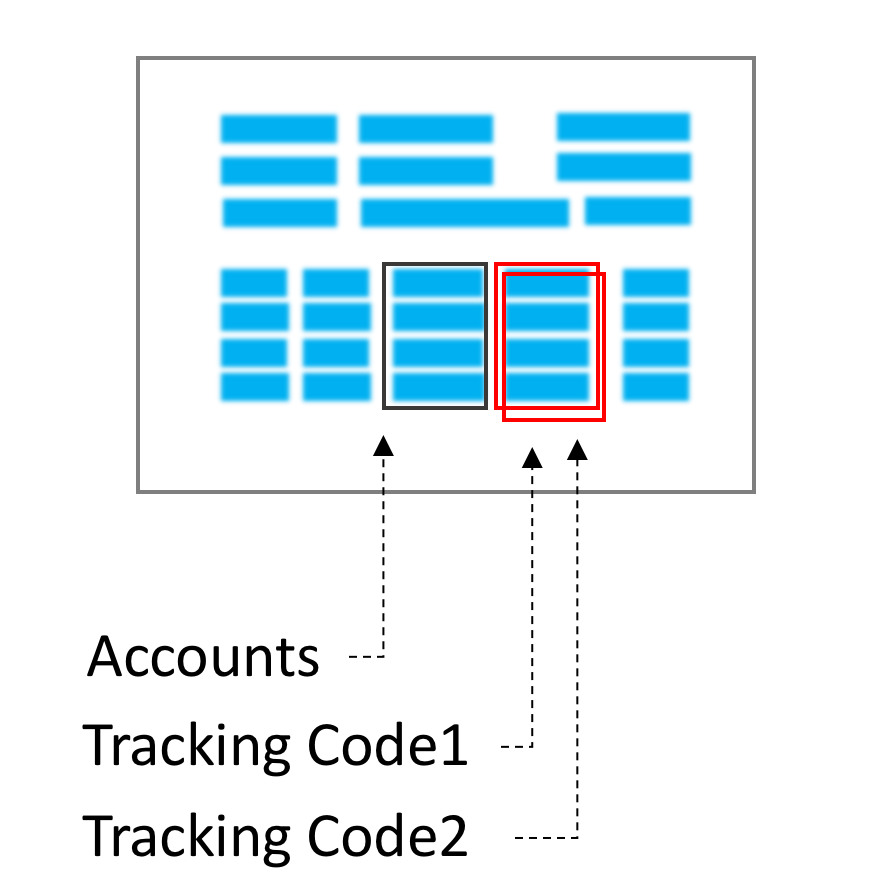 Tracking Codes are entered at line detail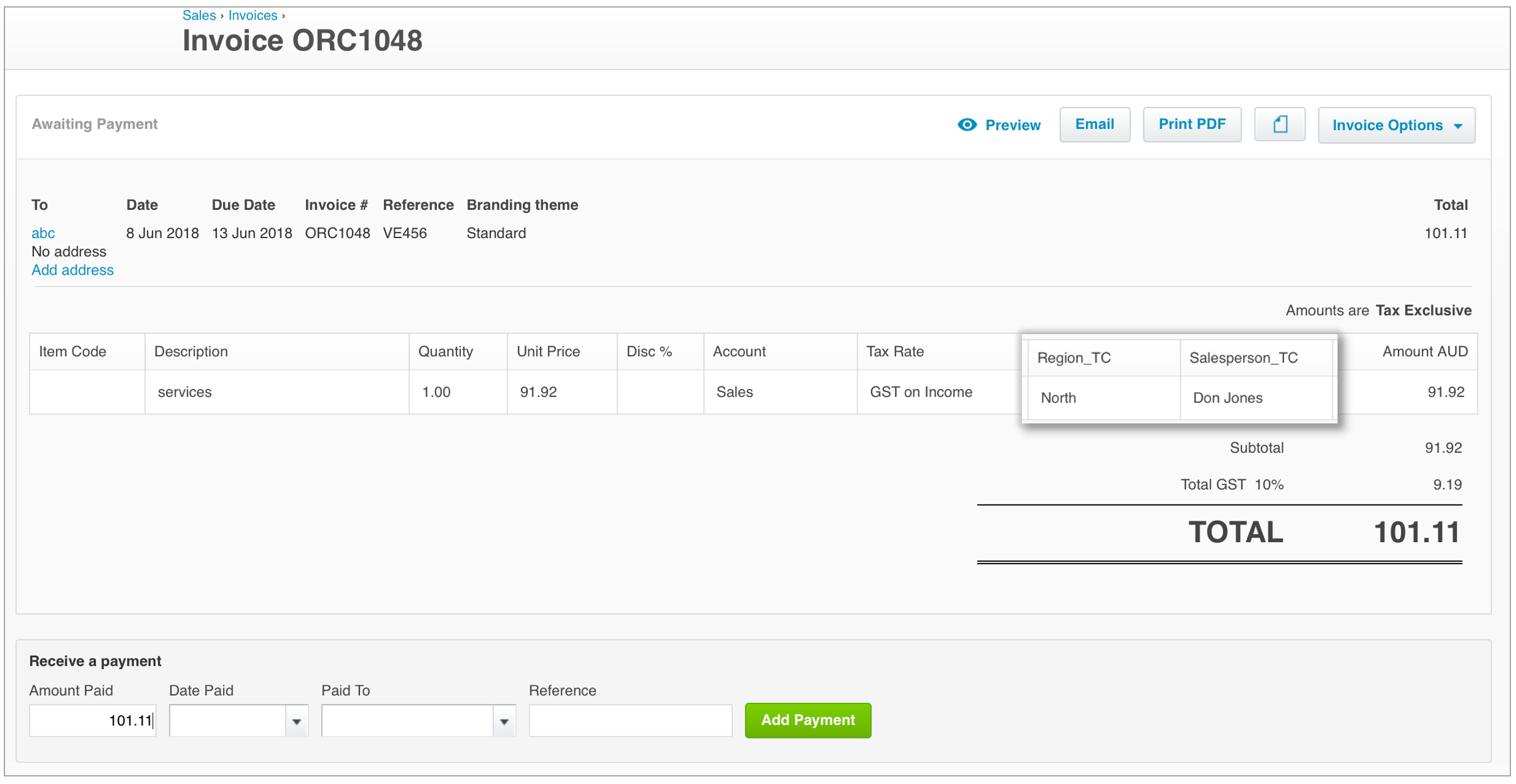 Bi4Cloud provides reporting of these tracking codes in the Analyse Sales report. This permits reporting by all the transaction dimensions in various formats including Pivot by each of the tracking codes
Sales Pivot By Tracking Code 1 vs Tracking Code 2

Sales Pivot Tracking Code vs Month

Sales Pivot Tracking Codes with Group by Month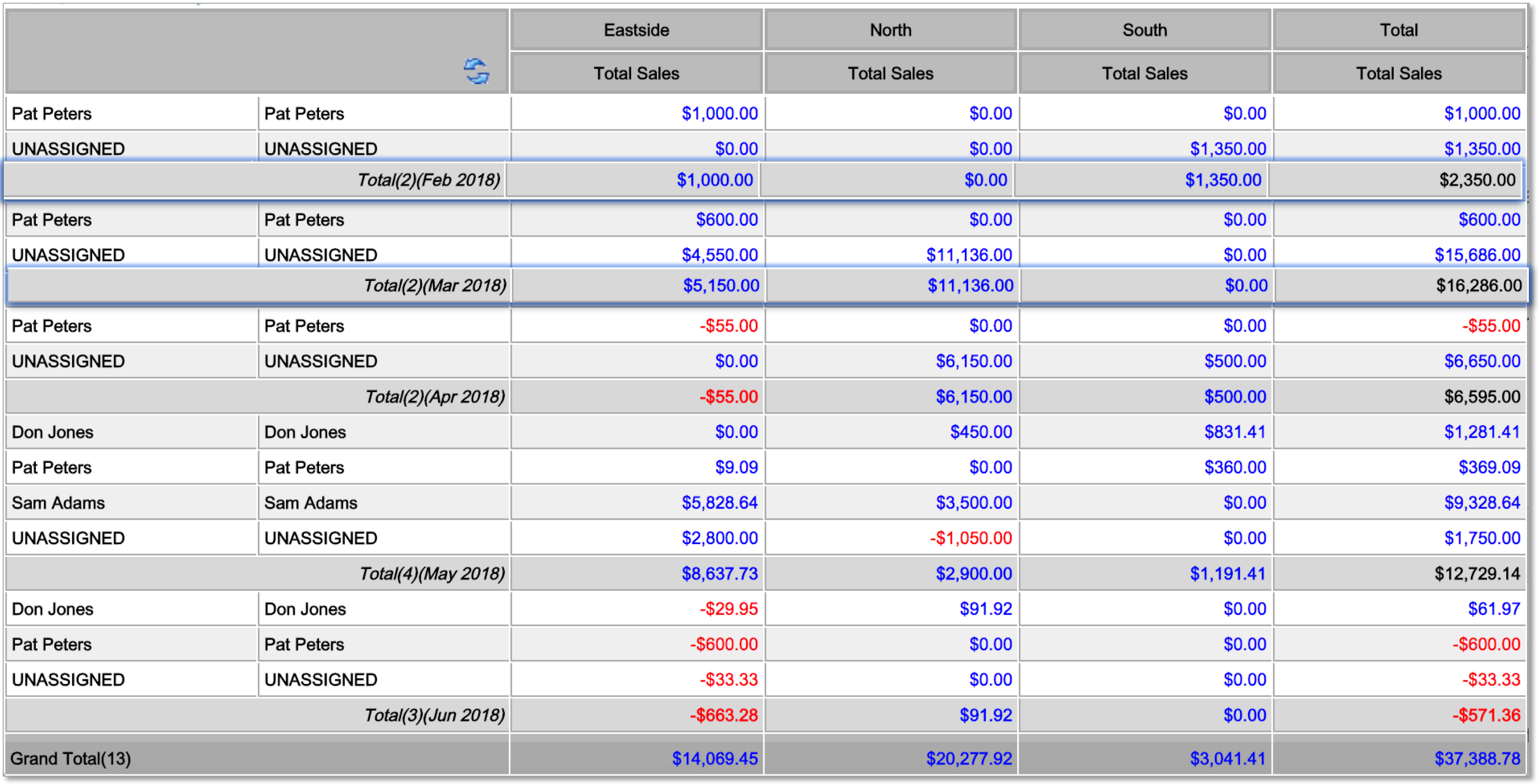 Bi4Cloud provides a powerful ability to generate Profit and Loss Reports by these tracking codes. Here are some examples.
Profit and Loss Group By Tracking Codes pivot by Month

Profit and Loss Group By Tracking Code 1 pivot by Tracking Code 2

Tracking Codes in Budgets
Xero provides entry of Budgets by Tracking Code. A budget tracking code is selected and the user can enter budget figures for each GL account.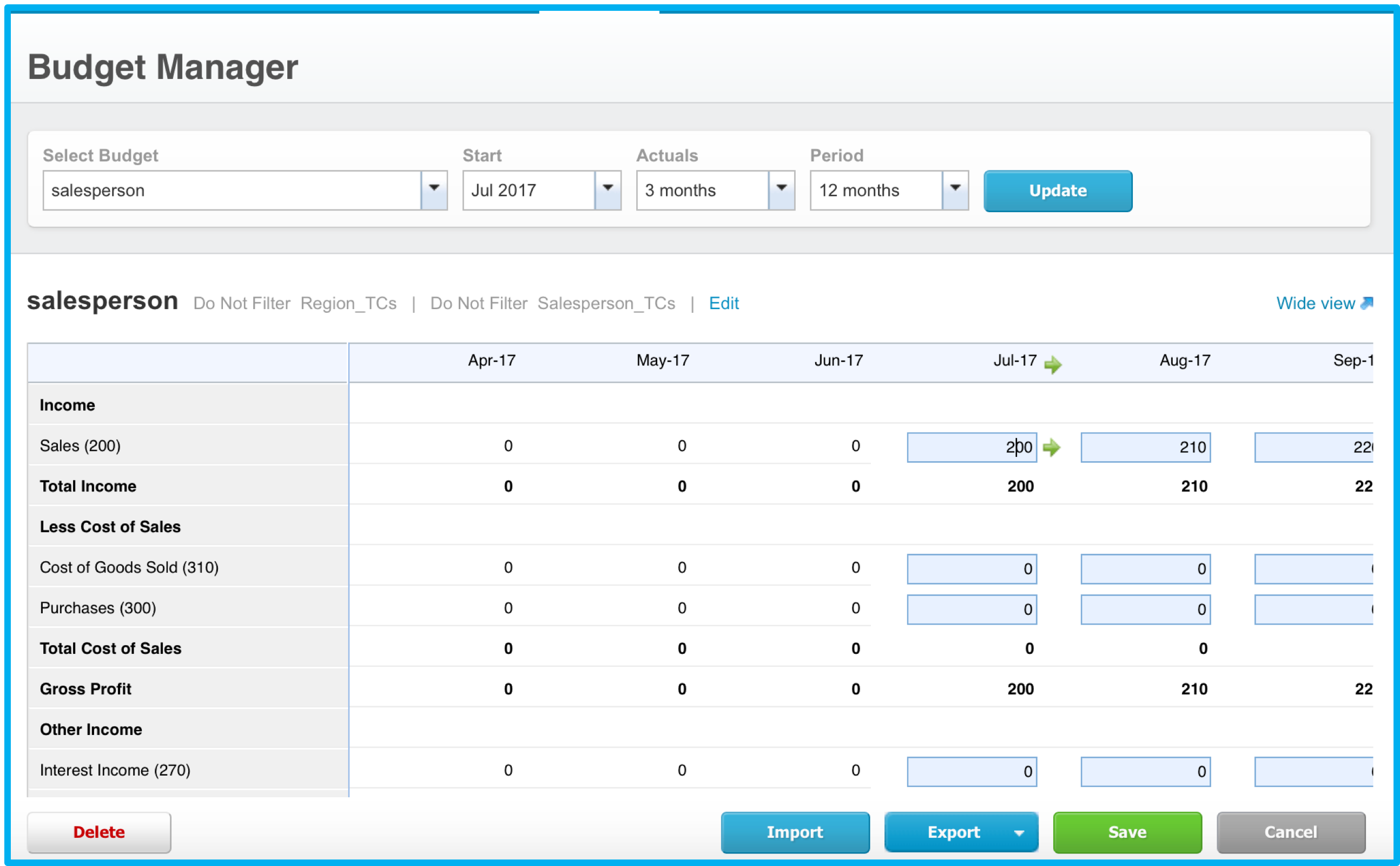 Although these budgets are in the Xero company file there is no access to the Tracking Code Budget from the Xero API.

Add-on solutions like Bi4Cloud cannot access this information through the Xero API.
To provide a solution here we have a Monthly Budget capability build into BI4Cloud to cater for inputing Tracking Code budgets.
This is accessible in Bi4Cloud in the Cool Stuff button.

Select Tracking Codes Budgets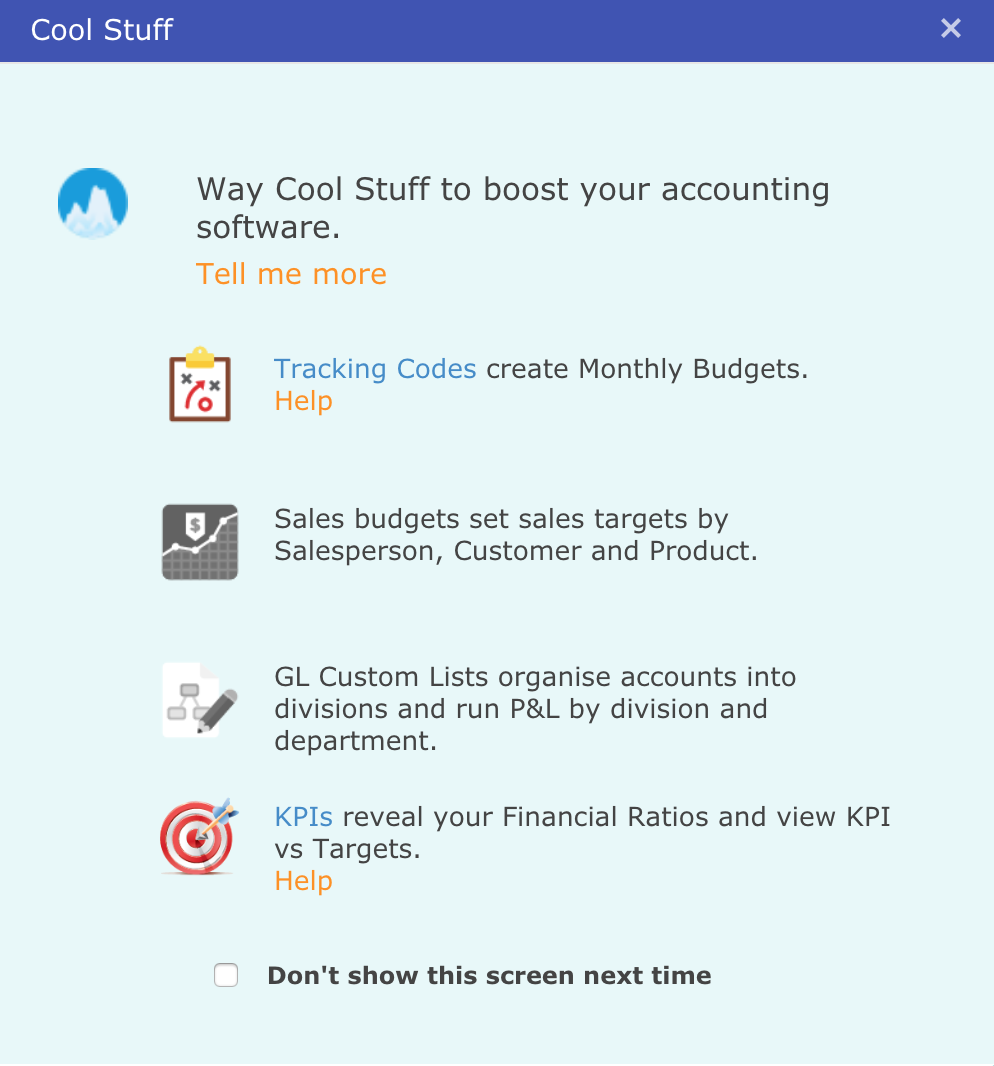 You will see each of the tracking codes you have defined in Xero. Click through against a tracking group and each tracking code will be displayed. Choose the Budget link in red.

The GL Accounts are then displayed and you can enter monthly budget figures or alternatively Export and Import from a spreadsheet. See controls in red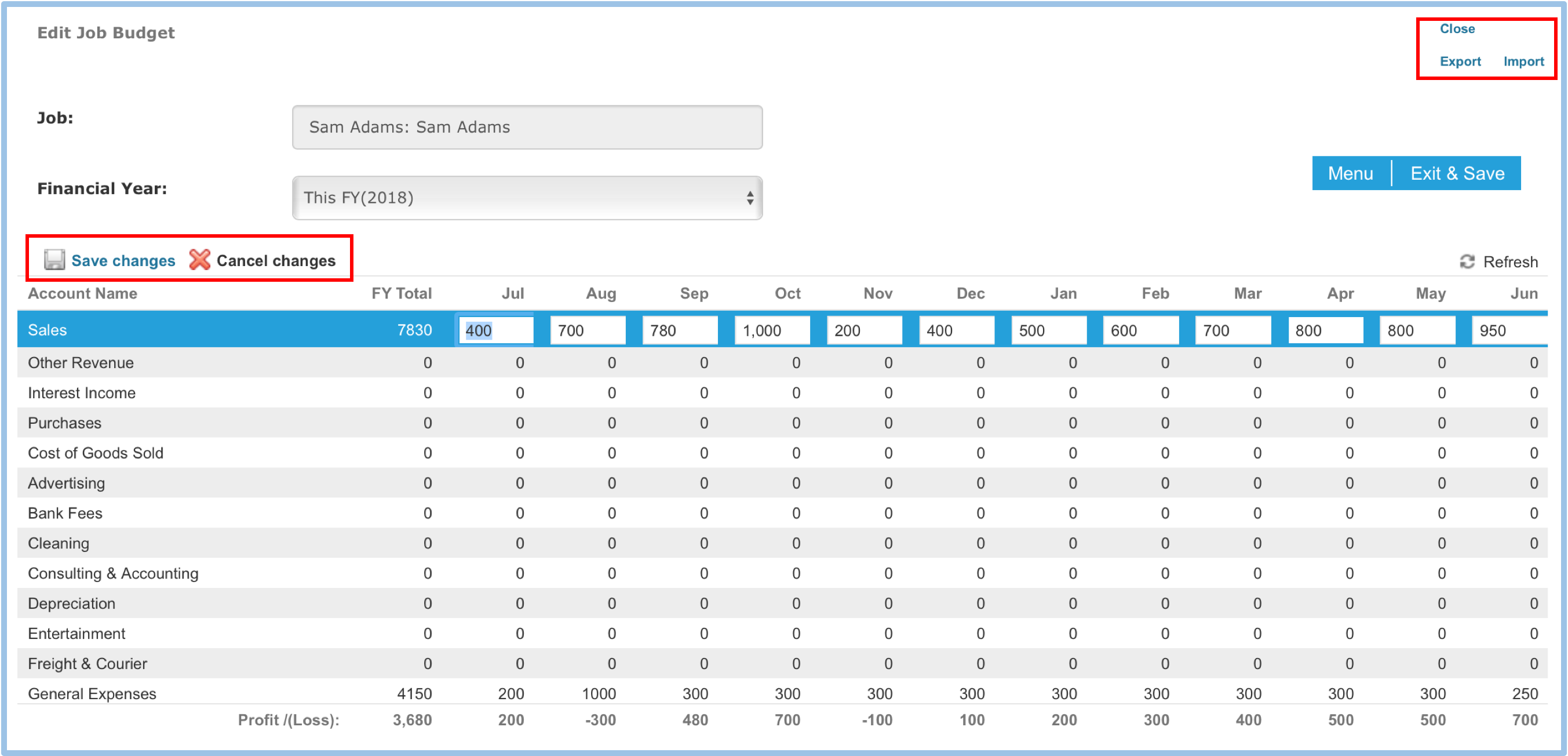 Once complete press Save Changes and then Close and a small bar chart indicator will show your entries.

Once all budget entry is complete press Save and Exit and the budgets will combine with the Xero actuals ( note we don't write them back into Xero ). You can also press Refresh as this also merges the Xero company data with the Bi4 Budgets.

You can then run Profit and Loss Reporting as before but now the Budget information is available at Tracking code level. Here few examples showing P&L Actuals and Budgets by tracking code.
Profit and Loss Actuals Filter by Tracking Code

Profit and Loss Actuals Budget Group by Tracking Code

The above screenshot show the Analyse and Group by dimension selections that produced the P&L Report.
All the standard Bi4Cloud facilities of choosing Analyse, Group and Time dimensions is available. You also have the ability to drill through to detail level on any reports.

  Reporting Functionality with Tracking Codes
Bi4Cloud uses a business intelligence (BI) tool to implement reports. This BI tool summarises your data in various dimensions of the underlying Accounting system. You can choose the dimension to Analysis, Filter by or Group by which gives you complete report flexibility.
This is represented schematically here.

Sign up for your free 14 day trial at Bi4Cloud.com and try it with your Xero company.