Sometimes things can go wrong when initially installing the BI Connector because of your servers setup.. Here are some points you need to investigate.
You Don't Have Server Access
Many installations are setup so that a server has all the program and data files and users connect to it from their PC using a Remote Desktop or RDP.
This facilitates centralised management and security.
However in some cases the lock down is so restrictive that users cannot access our website when connected to their servers or download the BI connector.
The BI Connector program is a digitally signed program and can be trusted.
Our Websites are SSL secured (https access) and can be trusted. The URLs are *biformyob.com, *biforcloud.com and *bi4cloud.com
Your system administrator will need to allow access to our websites and the ability to download the BI Connector. This access needs to be ongoing because the connector is often enhanced and requires updating frequently.
Also the users who will be synchronising will need permission to run the BI Connector. It's not a practical workflow that a system administrator needs to refresh.
If your IT policies are such that you cannot have the above permissions setup then there is a work-around to use the BI product.
The workaround is to install the MYOB programs on your local PC (we use the MYOB ODBC drivers that are included in the MYOB program) and to have the MYOB company file on the server available as a network share. You would then install the BI Connector on your local PC, run BI Connector and then select the MYOB company file from the network drive.
This will work fine because you only need to access the MYOB company file to extract and refresh the data. All reporting and analysis is done on our cloud servers.
Cannot Login
The BI Cloud connector launches and ask for a User Name and Password to access your details on our cloud server.
You need to enter the User Name and Password you entered when you Signed Up for BI for Cloud. The user name will be the email address you provided at Sign Up.
If you forgot your password then go to https://my.bi4cloud.com enter you email address and press Forgot Password.
If you are sure that you have the correct User Name and Password then your system may not be connecting correctly to our servers or the BI Connector has incorrect file permissions.
Checking Installation Permissions
Check the file permissions on the installation of BI4Cloud. Look for the installation directory of BI4Cloud. Right click to see permissions. Ensure permissions are set to allow read/write to all users.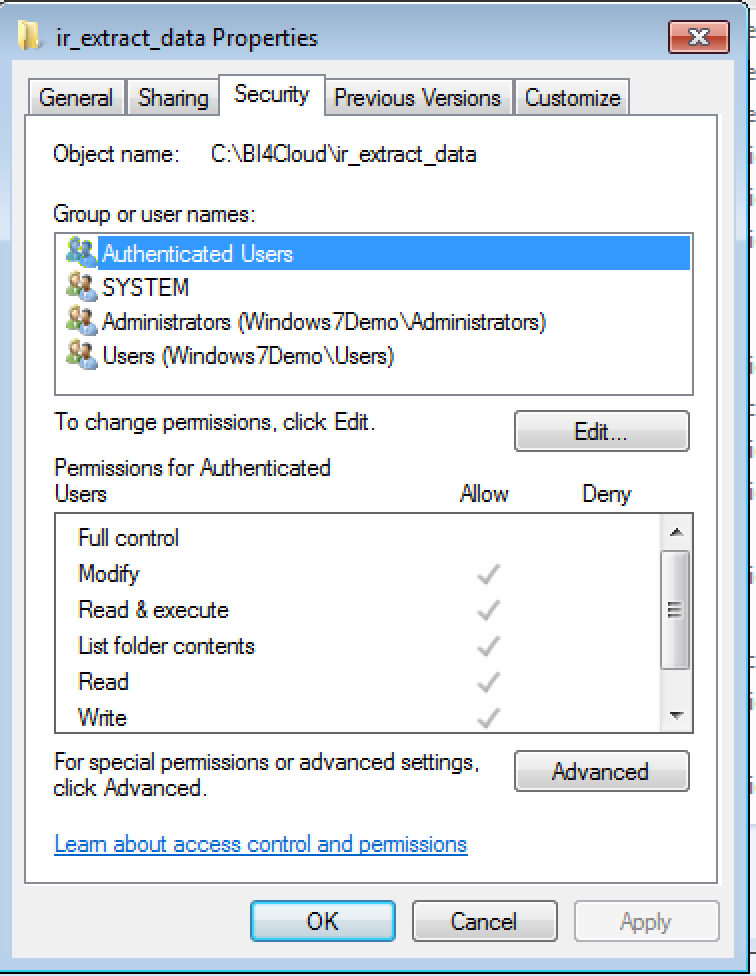 Also check the permissions of the directories in the BI4Cloud directory. These permission must also be read/write for all users.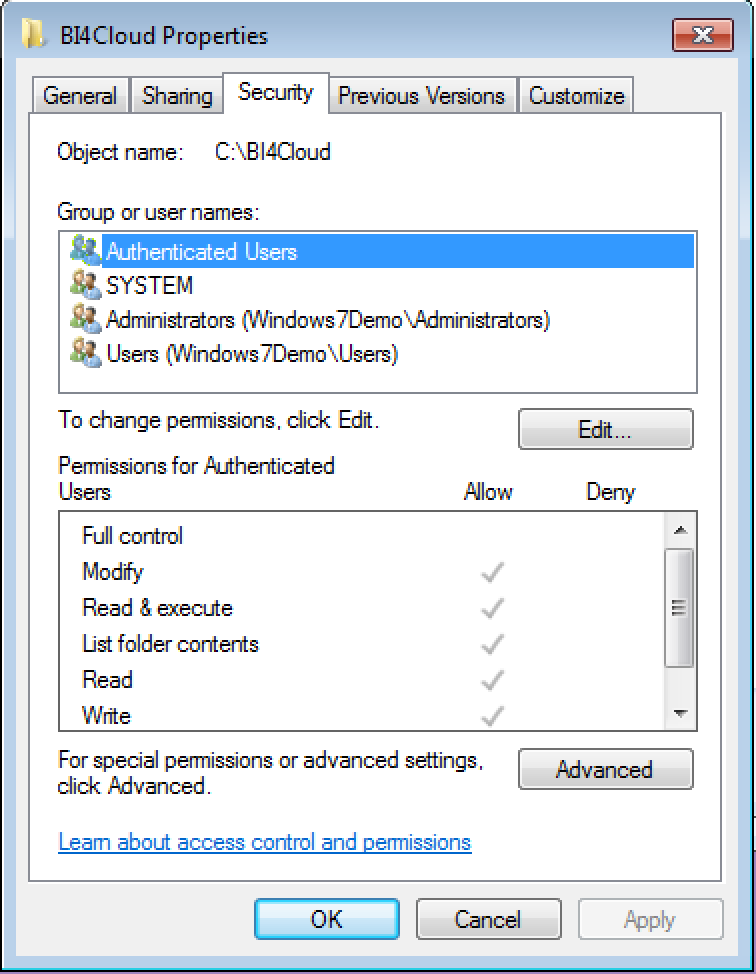 No sensitive information is kept in these directories, they are just staging areas for the extract and sync and so no security is being breached by allowing users access.
You may need to have your system Administrator to do this.
Firewall Preventing Access
Our Cloud server is SSL secured. Firewall software may be installed on your system that prevents access to our website. If you have a firewall installed then you need allow access to our website *biforcloud.com and *bi4cloud.com
You may need to have your system Administrator do this.
Proxy Server
Some installations use a proxy server to concentrate internet traffic. Our software requires direct access. Depending upon your proxy server you need to allow access to our websites.
For Internet Explorer to change proxy settings open IE and go to Tools > Internet Option then select the Connections tab. Check the proxy server settings and add our our website *biforcloud.com and *bi4cloud.com to the exceptions lists.
You may need to have your system Administrator do this.